I've lived in Bangalore for 3 years as a student and will continue residing here. Currently 20, I go out often with friends to different places. Apart from my short 2 days Bangalore itinerary, I decided to write this separate travel guide – things to do in Bangalore with friends.
Bangalore, referred to as the garden city of India, is a metropolitan for a diversity of interests. Its underlying reason is that it's one of India's largest cities areawise. Seriously. You can drive a good 35 kilometers in one direction and you'd still be in Bangalore!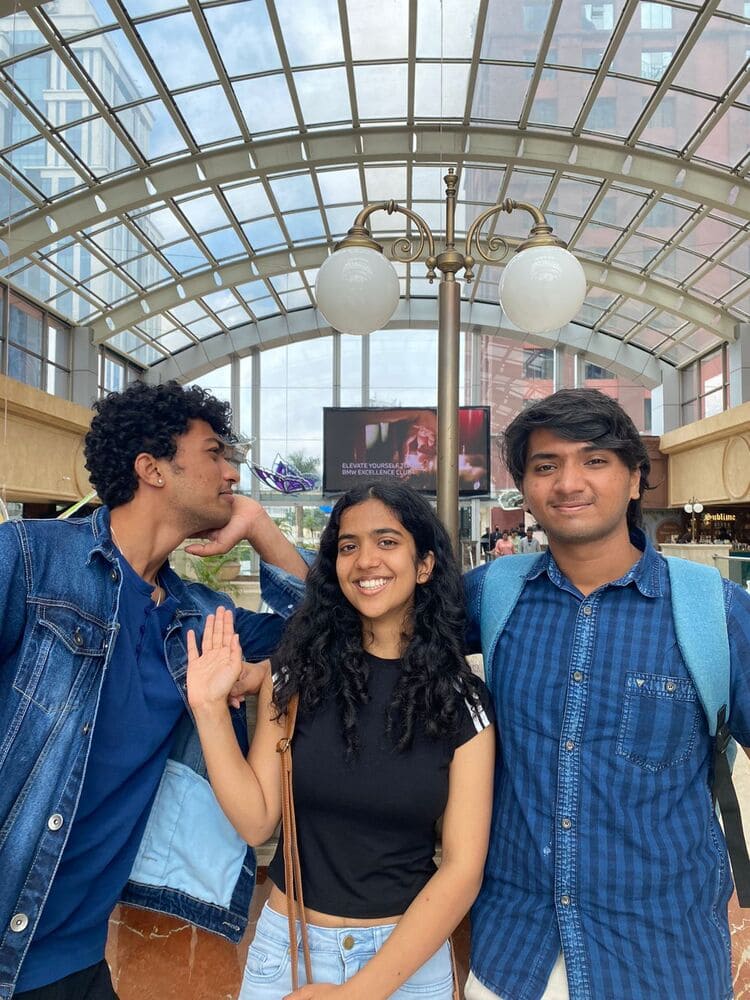 Anyway, while the city tends to all kinds of travelers – nature enthusiasts or lavish tourists- this post is focused on the youngsters. Feel free to consider this post if you're planning a trip to Bangalore with your best buds. Here goes my post on things to do in Bangalore with friends!
Crazy things to do in Bangalore with Friends
When writing the Bangalore travel blog post, I covered a short section on all the fun things to do in Bangalore. Here's a brief version of the same:
Walk and meet the dogs in Cubbon Park
Tour the busy streets of MG Road, Church Street, and Commercial Street
Stroll the Lavelle road, St. Marks Roads, and UB City
Eat at the dog cafes of Bangalore!
Plan a 1-day trip to Wonderla, Bangalore
Don't miss the must-visit places – Lalbagh Botanical Garden, ISKCON temple. Visveswaraya Museum, and HAL aerospace
Visit Nandi Hills before the sunrise
Check out the exotic restaurants and pubs of Indiranagar and Koramangala
Street food at V V Puram Food Street, Frazer Town, and Mosque Road
Drive a go-kart at Meco Kartopia!
Shop at the happening malls of Mantri Square, Orion Mall, Phoenix Market City, Whitefield
Cycle on the city's elite cycling trails

Go trekking on the outskirts of Bangalore at Skandagiri, Channagiri, Ramanagari, and Savandurga

Book a vineyard tour such as Sula Vineyards
Stop by nature spots like Bannerghatta National Park, Thottikallu Falls, and Prani pet sanctuary, Kanakapura Rd.
1. Take a walk in Cubbon Park
Being a sucker for the greens, it'll always be the best place I've visited in Bangalore. It's the second biggest park to Lalbagh Botanical Garden areawise. Being at the heart of the city, all the park's ends face some of Bangalore's must-see structures and streets.
Some buildings it looms over are the gigantic Vidhana Soudha, Visvesvaraya Museum, and Kanteerava Stadium. Not to mention, the Sheshadri Iyer Memorial Hall inside the park. It's also a walkable distance to UB city, Church Street, and MG Road.
Visit the park on Sunday, pet owners come with their dogs to the dog park. I always make sure to visit Cubbon Park on Sundays for the fluffies. park gates remain closed to motor vehicles on the weekend, thus making it a heavenly experience to walk here.
2. Tour MG Road, Church Street, and Commercial Street
The famous street, next to Cubbon Park is MG Road (Mahatma Gandhi Road). Back in 90s, MG Road and Brigade road were the only two large lively streets filled with restaurants, cafes, and shopping complexes – thus the popularity.
The evening is when the place comes alive! Church Street runs parallel to MG road and at the end of Church Street is Brigade Road. Church Street is a happening place where various kinds of activities and progressive demonstrations take place.
But I've to warn you, it's an expensive place where movie actors and cricketers pop in from time to time. Most resto-bars, pubs, and shops here aren't everyone's cup of tea. However, I'd say it's perfect for a first date. Some must-visit places here are Blossom's Bookhouse, Samsung Opera House, The Entertainment Store (Comic store), Matteo Coffee, and Brick Oven for wood-fired pizza!
3. Stroll the Lavelle road, St. Marks Roads, and UB City
Carrying on from the previous MG Road stroll, this is another stroll near the same marketplace. Lavelle Road, Vittal Mallya Road, and UB city are similar lavish places with lush green footpaths to walk on. The place portrays the bright side of Bangalore with luxury cars on the streets, bungalows on the sides, and generally – a rich neighborhood.
UB city is supposedly India's first luxury mall. Which also means I visit it just to look at things. The mall itself isn't big but it's a stunning place to hang around with rich gold interiors and large chandeliers. The top floor is open dining with a number of cafeterias – Cafe Noir, Keventers, Toscano, and Farzi Cafe – some with live music facing the UB tower midst of all the buildings.
Last but not least, don't miss out on the Sublime Galleria filled with Contemporary artwork on the 8th floor Sky bridge hanging between 2 of UB's tallest skyscrapers. The only way to get here is via the lift in the UB Mall.
4. Eat at the Dog Cafes in Bangalore!
My first visit to a dog cafe was the Snoopy Paws with a friend and I couldn't stop obsessing over dog cafes. These typically have a number of dogs that you can pet and play with. Whoever came with this idea's really cool. Some cafes have their own dogs and others are pet-friendly cafes (e.g. Rasta Cafe) that let you bring along your pup while you eat.
Some even offer services such as grooming and bathing for pups. The food's more expensive here but it's worth a one-time off for dog-lovers. Therpup dog cafe is said to be the biggest dog cafe. Upon so many people reviewing, I cycled to the place myself before it opened and it was totally worth the visit.
The overall ambiance, the home vibe and hospitality of pet staff, and of course the fluffies themselves make dog cafes irresistible to dog enthusiasts like me, and probably you too! Here's my full list of dog cafes in Bangalore.
5. Plan a 1-Day Trip to Wonderla
Sure, families go here a lot. But I've been to Wonderla with my squad and it had to be on this list of things to do in Bangalore with friends. The Amusement Park lies on the southern outskirts of Bangalore down the Mysore road. The cheapest way to get there is via the Wonderla bus from Majestic.
It's best to visit during the weekdays to avoid crowds as well as weekend prices. Get your student ID to get a 10% discount! Visiting Wonderla twice past 3 years, I made a Wonderla blog review and guide post, check it out for more details.
6. Visit the must-see places in Bangalore
There are dozens of 'must-visit' attractions in Bangalore. Some are truly must-visits like the Lalbagh Botanical Garden and Bangalore Palace. Others spots depend upon one's interest such as the Visvesvaraya Museum. Anyway, here's my list of must-see places in Bangalore:
Must-visit places in Bangalore
Lalbagh Botanical Garden in Mavalli
Visvesvaraya Museum
ISKCON Temple
Vidhana Soudha
Art of Living International Center
JP Park
HAL Aerospace Museum
Jawaharlal Nehru Planetarium
St. Mary's Basilica
Tipu Sultan's Summer Palace
Omthara Kala Kuteera
Lumbini Garden
Places like Lalbagh Botanical Garden and JP Park are great for pre-wedding photoshoot places.
7. Visit Nandi Hills before Sunrise
Nandi Hills is Bangalore's all-time favorite weekend getaway. Located 50km from the city past the Kempegowda Airport in Chikkaballapur. With an elevation of 1450+ meters, it's a breathtaking view from the top.
The hilltop gates open at 6 but arrive early as it gets crowded later. On my second visit to Nandi Hills, we walked up the serene green pathways by the Tipu's fort all the way up and it was another experience. Read my Nandi Hills blog here.
8. Check out the Exotic restaurants of Indiranagar and Koramangala
When in Bangalore with friends, you're bound to hear the mentions of Indiranagar, Koramangala, new Bel Road, and Malleshwaram. These are expensive residential and commercial spots that have some of the best restaurant ambiance and distinct cuisines.
Not many are family-friendly places. I myself have witnessed tipsy visitors going overboard and isn't a very bright sight. But for a bunch of pals? Hell, yes! Some chilled-out spots are Toit, Chianti, Pasta Street, Glen's Bakehouse, and Smoke House Deli. Check out the full list on TripAdvisor.
9. Go Clubbing!
Bangalore's equally popular for its nightlife. While there are many places like Skyye and NoLimits, I recommend going on occasions like New Year for the best experience. Keep in mind to prebook your entry because people love clubbing here! I'm not much of a party person myself but here's a detailed post on the clubs in Bangalore.
10. Street food at V V Puram Food Street, Frazer Town, and Mosque Road
I've yet to experience a night out with cheap street food. And these food streets are the real deal. Finger-licking tastes, cheap rates, and tummy-filling quantity to whatever you buy. What more can you ask? V V Puram Food Street, Frazer Town, Malleshwaram, and Mosque Street are streets, anyone, in Bangalore, will know for food.
Most of these streets stay open till 10 – 12 pm. Mosque Street in Frazer Town is your place for non-vegetarian delicacies. By bus, get down at Colespark and stroll through Frazer Town's commercial lines for literally anything you wish to eat!
11. Drive a go-kart at Meco Kartopia!
Go-karting has its own set of enthusiasts. It's short-duration fun and the handful of go-karting spots have a monopoly over the tracks and pricing. But it's worth checking it out for motorsports enthusiasts. These are usually custom-built fuel-powered carts with tracks built by racing enthusiasts themselves.
Some of the best tracks to check out are the Meco Kartopia, Grips Go Karting, Aruani Grid, and Patel's Inn (for budget go-karting). Read my full post on the best Go-karting tracks in Bangalore.
12. Shop at the happening malls of Mantri Square, Orion Mall, Phoenix Market City, Whitefield
Malls are common in almost city you go to in the world. But I'd to put it on this list of things to do in Bangalore with friends. After all, malls are all-in-one places for food, movies, window-shopping, and strolling. It's actually one of the most affordable ways to spend time with friends compared to the rest.
The Phoenix Market City (and VR right beside it) in Whitefield comes out as the biggest mall in Bangalore. While it's far off from most places in Bangalore, it's great to spend a whole day here. Some other large malls are Orion Mall, Mantri Square, Foram Koramangla, and Bharatiya City.
13. Cycle on the city's elite cycling trails
Similar to go-karting, Bangalore's getting crazy with some sports. Cycling is one of them. If you're a cycling enthusiast yourself, know that the city has got cycling groups, clubs, and even cycling dedicated trails such as the big banyan tree waiting for you.
I've gotten my feet real dirty with cycling as well that I wrote a post on my favorite cycling trails in Bangalore. Cycling with friends here can make for great road trips from Bangalore.
14. Go trekking on the outskirts of Bangalore
Here's the thing about Bangalore. It's an IT hub with engineers who don't wish to stay in on the weekend – thus the 'weekend getaways'. People love taking weekend road trips to hill stations (like Madikeri, Sakleshpur, and Chikmaglur around the Western Ghats) and of course trekking places.
The most popular trekking spots are Nandi Hills, Skandagiri, Ramanagara, Shivaganga Hills, and Channagiri Betta.
15. Book a vineyard tour such as Sula Vineyards
Vineyard tours make for perfect 1-day trips and weekend getaways. Most lay on the outskirts of the city and with many visiting them, vineyards offer the tour, wine tasting, and even resorts making it a whole vacation. I've yet to have my first vineyard visit in Bangalore. But for info's sake, some famous ones are Sula Vineyards, Grover Zampa Vineyard, Kadu Winery, SDU, Kinvah, and Myra Vineyards. I found this great article for you on Bangalore's vineyards.
16. Take a Road Trip!
Similar to the thought of people heading to trekking places, people in Bangalore head to a lot of nature places. With so many falls, forests, and resorts for road trips – this deserves to be on this list of things to do in Bangalore with friends.
Some sweet places to visit with your best pals from Bangalore are Yelagiri, Hogenakkal Falls, Yecaud, and Kolli Hills. Some longer 8+ hour distances are Valparai, Thekkady, and Vagamon in Kerala. If long-distance isn't something in your range, a short road trip can be to Chunchi and TK (ThotteKallu) falls near Kanakapur.
Key Takeaway to Touring Bangalore
That brings us to the end of this post of things to do in Bangalore with friends. Entering 2022, my squad made a night out staying in a resort for the new year. This brings my last idea, staying at a fancy resort with your friends or your date is something else you try out.
Use Booking.com for finding a wide range of accommodation. Here are all the stays in Bangalore listed on Booking.com – filter out your requirements, dates, and pricing to check for your availability. To put it out, some of the best ones out there are Golden Palms resort (Nelamangla), Shilhaandara Resort (Ramanagara), Eagleton Golf, and Guhantra Resorts, and the list goes on.