I've visited Cubbon Park many times. Having heard of the Weekend Cubbon Dog Park event every Sunday, I decided to cycle to the spot early morning. The 21 km ride from my Uni was all worth it! Though my last morning visit to Cubbon Park was amazing, this time just made the spot my all-time favorite.
Sure, on any given day, there are pet walkers around in the park, particularly in the mornings. But on Sunday's event, many dogs along with their owners get together in one spot of the park where the most doggos are left free.
With so many cute dog videos I shot on my phone, I decided to make a vlog/compilation of my weekend Cubbon dog park visit for YouTube. Don't judge me – I'm on my way to getting the hang of editing and making videos!
The best part? Unlike most dog cafes in Bangalore, it's free for dog-lovers like us! I couldn't help but put it on my list of the best things to do in Bangalore. I took dozens of shots of the friendly pups. Here's how my Sunday was well-spent visiting the weekend Cubbon dog park!
Get there Early in the Morning
The Sunday Dog Park is only open on Sundays 7:30 am – 1:30 pm. I'd recommend visiting the dog park early as most dog owners flock in at this time and the climate's calmer. When I cycled to the park, I hadn't planned out my whole route and trip, but the morning visit to the dog park was perfect.
My Ultimate Bangalore travel blog is finally out! So what's it about? It's got everything you need to know about places, people, and insider tips on visiting the city as a traveler. Read the Bangalore travel blog here.
After an hour or so at the park at 8:30 am, I was hungry so I headed straight to the closest restaurant – Konark Kanteervara for breakfast. I bought my cycle a few weeks ago and this has been my favorite cycling itinerary so far.
To all the morning people, I suggest visiting Cubbon park around 6:00 – 6:30 am and taking a stroll around the park. Around 7:30 am head south of Cubbon park towards the dog park. It lies opposite Sheshadri Iyer Memorial Hall or also popularly referred to as the park's State Central Library.
Rules for Dog Walkers
I wanted to take a good look at the rules but soon was lost in the pool of doggies. But to write this article, I found rules made by Horticulture Department for pet walkers in Cubbon Park. While the banners here insist walkers have masks on at all times, along with leashing the dogs.
Any stools of the dog should be cleaned and picked up by the pet owner. The banners further encourage pet owners to fix mouth pads on their pets (yep, they went too far here) – luckily I haven't seen any dog here with the mouth pad on.
Summing up, the basic rules for pet walkers in Cubbon Park are:
Dogs should have their dog belts and be held on a leash by the owner at all times here.
Pet owners should carry vaccination certificates for their dogs.
Any fecal matter should be picked up and cleaned up as a responsibility of hygiene by the owner.
Sundays are different. On the contrary, dogs are let free during Sunday's dog event without belts in the dog-fenced area and most socialize with people and other dogs.
There was a poster of colorful rules on the fence before entering the fenced dog area here, but no one seemed to glance at it. A sweet mid-aged lady, who seemed to host the event with her Saint Bernard, let in the dogs and their owners, closing in the fence behind them.
Another article for you to read on Bangalore: Akkayamma Betta Bangalore 2022 – A Blissful Oblivion
Weekend Cubbon Dog Park: Talk more, Be friendly!
Everyone wants a pleasant morning. Though I didn't wish to interact with people in Cubbon park, I made sure to request permission from the dog owners before petting them. Most dog owners are friendly and will kindly allow you to pet their dogs.
Inside the fenced dog park, it's easier to talk to people as most are dog enthusiasts here. Approaching dog owners for quite a while now, here are some things to make a conversation about.
May I pet your dog?
What's her name? How old is she?
He's a husky, isn't he?
In dog cafes like Snoopy Paws, the dogs are used to getting petted by visitors, but these aren't. Be polite and the pet owners are sure to be glad to let you pet the doggos! Apart from the lovely dogs, the whole friendly atmosphere is something worth having a glimpse of here.
Another article for you to read on Bangalore: Wonderla Bangalore Blog with Friends
Adopt, Don't Shop
Just outside the Dog park's fenced spot were rows of people holding up the sign, 'Adopt, Don't Shop'. They all stood in lines where people tried to look over the fence at well-groomed, obviously expensive, doggies. The irony.
I'm not sure if the dogs here were adopted or bought. Either way, I'd support the slogan – Adopt, Don't Shop.
Ever since my visit to one of the biggest animal rescue centers in Bangalore, I would support dog adoption over buying. The rescue center houses dozens of different animals, some abused, disabled, or simply abandoned by their owners.
Yet, the dogs are friendly. You can adopt pups from here and I highly recommend it to the ones looking to get a dog.
Another article for you to read on Bangalore: Ultimate Bangalore Itinerary for 2 days
A Perfect Morning Date Idea for Cubbon Park
If you and your partner have agreed on visiting each other at Cubbon park on a Sunday morning, I best assume you both are morning persons, and into dogs. Keeping the Sunday park, cute paws, and budget places to eat in mind – here's a sweet date idea that I thought of:
Meet up between 7 – 7:30 on a Sunday morning. Take a stroll around the park. Walk around the rose garden, the dome of dancing and musical fountain, and by the gigantic Vidhana Soudha.
Get to the Dog park inside opposite to the State Central Library. The dog park is open from 7:30 am to 1:30 pm so getting there on time shouldn't be a problem. The nearest gates to the dog park are the east gate (passing by Mathsya Darshini) and the South gate facing the Kempegowda tower/used cars showroom.
Have breakfast! The nearest breakfast spots to the dog park are the Nisarga Grand and Konark Kanteerava. I prefer the Konark Kanteerava with its open space and lush ambience. It's only a 15-minute walk from the dog park through the rose garden and Kasturaba Road.
Go Cycling. This is optional. But to fitness and cycling enthusiasts, feel free to put it on your date's to-do-list. There's a cycle rental service (KSDH cycles) right after the park's gate at the Kempegowda tower. It's cheap but make sure to bring an id to rent it out!
Visit the Visveswaraya Museum. For a one-day date ideas, this can be your next destination. Another walkable spot to check out near Cubbon Park and perfect to visit for a couple of hours. Other similar places to check out here are the Government Museum, Aquarium, Venkatappa Art Gallery, or even Lalbagh Botanical Garden to plant enthusiasts.
Take it to Church Street/Lavelle Road/ UB City. Extending the date further? Then these are some nearby places to check out. If not these, then there's always the option of taking the metro from Cubbon park Metro Station. I think I'll stop right here.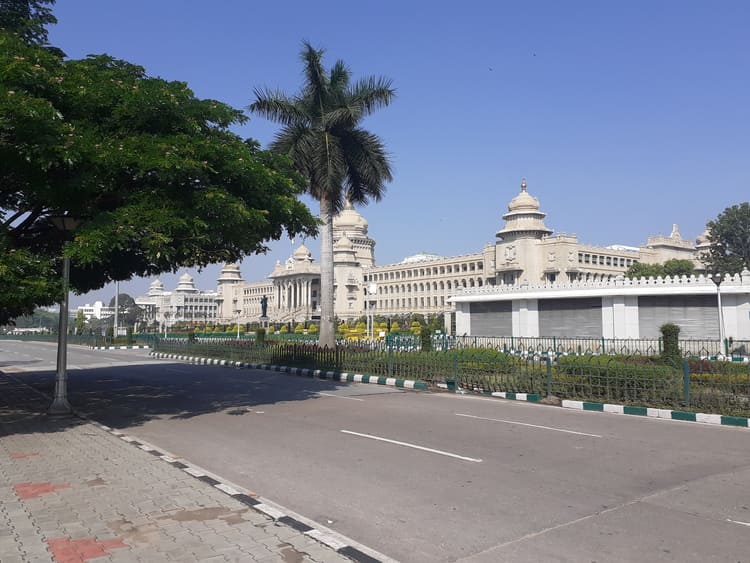 Another article for you to read on Bangalore: Epic Nandi Hills Travel Blog: Perfect Weekend Getaway
All the Doggos I met on Sunday's Dog Park
Visiting Cubbon park last Sunday made me realize how enthusiastic people are about dogs. Some had t-shirts on, some were well-groomed, and some even behaved elegantly. There were half a dozen huskies and german shepherd pups – most of the pups. Shitzus, poodles, labradors, and even a dalmation.
The largest of the dogs were a white Great Dane and a sleepy Saint Bernard. Here are some of the best shots I got on my phone of all the cuties:
Another article for you to read on Bangalore: 8 Things to Know about Bangalore for a Crazy Traveler!
Weekend Cubbon Dog Park: Tailpiece
That sums up my blog on my visit to the weekend Cubbon Dog park. I always wanted to get a dog but never had a chance to. So visiting the dog park was a complete bliss to see so many doggies happy and running free – and the privilege to pet them.
When I get a dog, I'm sure to bring it here. I hope you have a great day!
Another article for you to read on Bangalore: Nandi Hills Travel Guide 101