I've visited Singapore several times since my school days and I never get tired of it. But I'd always traveled to Singapore with family or friends, but never solo. In mid-2022, I went on a 5 days solo trip to SG – budget travel of course. And here's my post on the Singapore budget travel guide.
For a beginner solo traveler, I'd recommend starting with Singapore over any other place. It's expensive compared to the rest of Southeast Asia, but the country has amazing facilities for solo travel. One of them is the space pod accommodations that are still hard to find in many places.
My only regret is not having more days here. Not getting a chance to visit a couple more places. Not spending a little more. Ironically, I'll tell you about it in this Singapore budget travel guide.
Singapore Budget Travel Guide: What to Expect
Singapore's exactly how it appears on its tour advertisements. The view from afar is skyscrapers, Marina Bay, and the fast lane lifestyle. But there's so much more to the country. Sure, there are varieties of cuisines, Chinatown hawkers, and Little India shopping sprees – but that's not just it.
Unlike most Southeast Asian countries that budget travelers look forward to, Singapore's comparatively very organized, a lot more expensive, super safe, and people take its rules seriously.
While it lies in the tropical region and there are definitely great beaches around, most travelers look forward to visiting the world-class attractions of Singapore. And you should too – you'll have beaches in every other part of Southeast Asia anyhow.
The nearest island for cheap beach resorts in Batam Riau, an Indonesian city island (and where I grew up). It's just an hour's ferry ride away from Singapore and trusts me, it's got some amazing seafood places for beat prices!
Speaking of attractions, here's my list of the best attractions in Singapore that you shouldn't miss out on.
Best Things to Do in Singapore
Yes, this is the Singapore budget travel guide. Yes, it's not THAT budget-friendly. Singapore's expensive compared to other developing countries in Southeast Asia. Not to mention, it's one of the most expensive places to live in the world.
We'll discuss the budget later in this part of the post.
But the attraction tickets, add up to a big chunk of your itinerary. While there are plenty of free places to visit like exploring Chinatown or Gardens by the Bay, there are some places in Singapore that shouldn't be missed out.
Places like the Singapore Zoo (that famous open-concept place), Jurong Bird Park, and of course the S.E.A Aquarium. They're super-pricey but they have a good reason for it – they're once-in-a-lifetime experiences. I've spent most of my budget on some of these attractions and I don't regret it, they're absolutely worth it.
If you're visiting Singapore for the first time, these are absolutely must-visits! Here's my list of the best things to do in Singapore. And you'll see why :)
Spend a day at Singapore Zoo
I've been to Mandai Zoo twice! After Universal Studios, it's one of the most expensive attractions at SGD $48 for 1-day admission. But visiting it twice, I believe that Singapore Zoo has, by far, the highest value for money. For availing discounts on the tickets, read my budget tips below.
It takes a whole day to get around the zoo. Or at least 5 hours considering you check out every habitat here. And no exaggeration, there's literally tons to see here. My favorites were Reptopia (where I was blunt and terrified) and Fragile Forest. Read about my Singapore Zoo blog.
What I loved more was how well the 'open' concept was. No animals are placed in cages here. All of them walk freely in their habitats just steps away. In fact, it's more like you're entering their territories.
The wild and larger animals like lions and elephants also have their own spacious green habitats with moats around them. Others species like monkeys, lemurs, and peacocks roam freely around and sometimes pass over our heads!
Walk around Chinatown for an Evening
The daytime of Chinatown sure is great for the pictures. But the place really comes to life at dusk. I'd never walked around a marketplace before and I was hesitant. But when I visited, it was way sweeter than I expected.
Chinatown in Singapore is a blend of modernness and cultural heritage. While an evening should be a sweet slot, I'll warn you that there are quite a number of places to get around. And many delicacies to try! Read my Chinatown Singapore Guide here.
When you're here, some things to look out for are the Buddha Tooth Relic Temple, the ancient People's Park Complex, Sri Mariamman Temple, Pagoda Street, Maxwell Food Center, Mural Paintings, and Chinatown Heritage Center. Now there are tons of things to eat here. Whatever you do, don't miss the Hainanese Chicken Rice and Dim Sum.
Apart from the main delicacies stalls, there's so much more to try. Some bigger and more famous hawker restaurants and some small hawkers yet crowded for their addictive tastes. Walk around the local hawker stalls, and food centers, and taste them all out. Besides, the street food prices are quite low anywhere between SGD $3 – $6 per serving.
Take colorful pictures of Little India
Similar to Chinatown with the bustling colorful shophouses of restaurants and retail stores, Little India is another spot worth visiting in Singapore. Coming from India myself, Little India isn't very different with its crowds, loud voices, and familiar vegetarian delicacies.
The only difference is, Singapore's Little India is way more organized, photogenic with its shophouses in different hues, and definitely cleaner.
I didn't plan on visiting Little India as I visit it often with my family anyhow for large groceries. Yes, we stay in Indonesia. Yes, we get the groceries from here. Mustafa Centre in Little India, to be exact. Name any grocery, any retail item you're looking for – Mustafa's got it… and at great prices too!
Apart from the commercial aspect, Little India boasts its temples, mosques, colorful street art and mural paintings, and its own Indian Heritage Center. Some places to visit are Sri Veeramakaliamman Temple, Tan Teng Niah House, and Sri Srinivasa Perumal Temple.
However, avoid visiting Little India on the weekend evenings (starting Friday) to avoid large crowds.
Feast at Clarke Quay/Boat Quay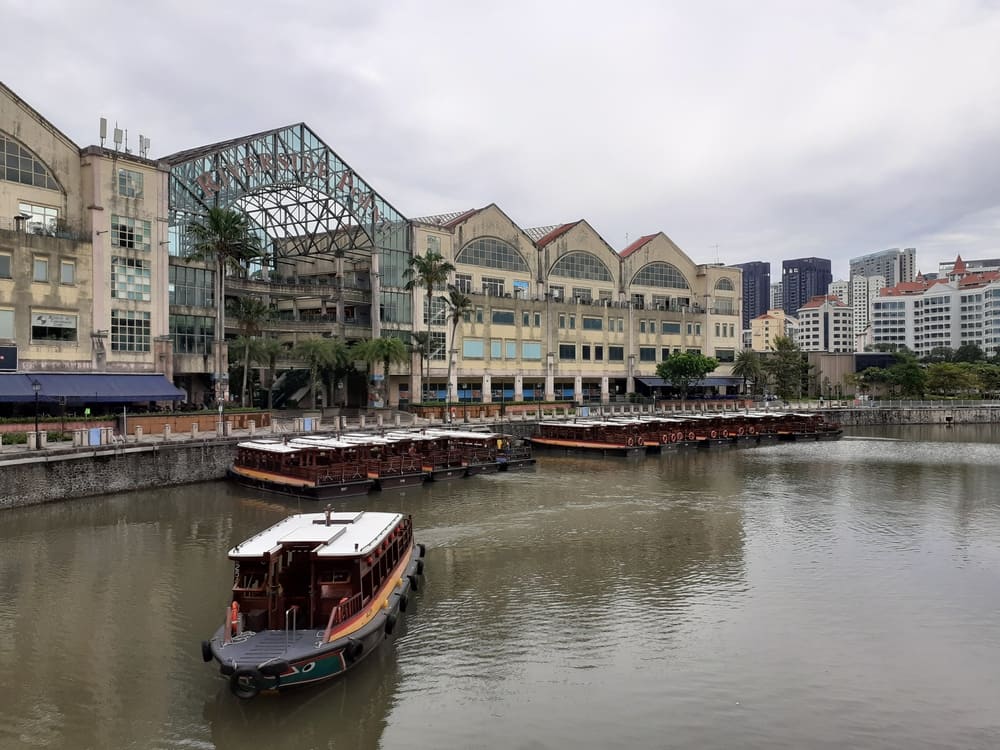 Clarke Quay and Boat Quay which lie by the famed Singapore River are known for their prosperous nightlife with seafood restaurants, bars, and clubs. They're also pricey compared to the rest of the country. But it's worth visiting and an evening walk by the riverside.
Apart from a food enthusiast's paradise, Some things to check out here are the Singapore River Cruise ride (my experience) and its bridges (like the Cavenagh bridge). Make sure to get around Boat Quay for many Alfresco dining and a large variety of cuisines to pick from.
Visit the Marina Bay and Gardens by the Bay
Oh no, we don't get inside the Marina Bay Sands. Not the main hotel – that costs something. If you really wish to check it out on a budget, they'll let you on the Skypark observation deck on top of the 3 buildings with a full view of the country's skyline. But that's not what I had in mind.
Apart from the hotel, there's so much else happening around and it's worth the walk! Through the Shoppes Mall at Marina Bay, walk on the Marina Bay deck overlooking the waters and the skyline, and begin your journey here. From here, take a right and you'll walk past some of the best things to see. The ArtScience Museum, Spectra Light Show (at 8 pm and 9 pm), Helix Bridge, Flower Domes, Gardens by the Bay, and DragonFly Lake
Check out the National Gallery
I had it in mind but never visited it until I traveled solo. I was hesitant, but I'm glad I went! It's got to be on this Singapore budget travel guide. Though not immersed in the art world myself, the whole experience of artwork through the different timelines was something. I wouldn't recommend it for kids, but it's worth the time. Please read my blog here.
Not being aware that the National Gallery of Singapore today was once the Supreme Court and City Hall. So not only do you visit the place for its arts, but for the Neo-Classical building itself. One of my favorite parts was the section between the City Hall and Supreme Court. Though bridges connect the two buildings and metal and glass rooftops held by a metal tree structure, it was once a parking lot.
Don't miss out the Jurong Bird Park
Another wildlife attraction in Singapore is Jurong Bird Park. Again, like the SG Zoo, it's built to be one of the best – and it is. I visited it once as a kid and I can vividly remember the shows here. Macaws cycling, parrots speaking, toucans perched up and so much more.
And then there are some things to observe out here in the themed zones. The waterfall aviary in Jurong Bird Park stands as the tallest man-made aviary waterfall in the world. With the concept of an open zoo similar, Jurong Bird Park is said to be the largest aviary in Asia – a paradise for exotic birds.
Stop by the Jewel at Changi
Changi Airport itself is quite an attraction if you ask me. The large 4 terminals make a city by itself and are one of the best in the world. Walking into Jewel Changi without a boarding pass and into the shopping mall is an option.
But if you ask me, save time by visiting it when you're flying in or out of Singapore. Keep at least a good 3 hours stowed away for Jewel Changi. Take a while around outside the departure lounge, but spend more time inside. Everyone knows that's the real deal. The comfortable lighting and carpets throughout.
Jewel Changi is a cherry on top with its water laser shows (it's free) in the evening.
Take a trip to Pulau Ubin
Finally, this is a little offbeat to visit for a faraway traveler. After all, if you're looking for islands to visit, why not get to Indonesia anyhow? But for a change and an island of Singapore, Pulau Ubin is an option. They took you here on a bumboat for around SGD 6, and here you are in the land of hiking and cycling trails!
It remains one of the last kampung villages of Singapore. Thus it makes for a unique cultural experience of Singapore's times before. If you're looking to relax in Singapore, luxury resorts at Sentosa are an option, so is this the whole alternative? Plan your day trip here instead!
More Things to do in Singapore
Singapore Budget Travel Guide: There are some experiences that are no doubt worthwhile in Singapore, but I'd prioritize the above list over anything. Moreover, some of these experiences can burn a hole in your pockets if you aren't careful.
Take a 1-day pass to Universal Studios
Pfft, a theme park on a budget travel guide. What else is wrong? But taking a day tour around the theme park just before the pandemic was one of my best days in Singapore. Watching the minions, Sesame Street, Shrek 4D, and Puss in Boots just dropped me in a pool of nostalgia and I loved it.
If you're someone who's grown up with these shows, then Universal Studios is definitely worth a day's trip.
Have a sip of Singapore Sling at Raffles Hotel
This is still on my bucket list and no doubt on this Singapore budget travel guide. Trying the infamous Singapore Sling at Long Bar, Raffles Hotel. And to glimpse at the Raffles Hotel, one of the richest hotels in Singapore ever since 1887. The Singapore Sling, in case you didn't know, was first made by a bartender in Long Bar. It was made pink so that it appears socially acceptable for women to drink.
Catch a glimpse of Giant Pandas at River Wonders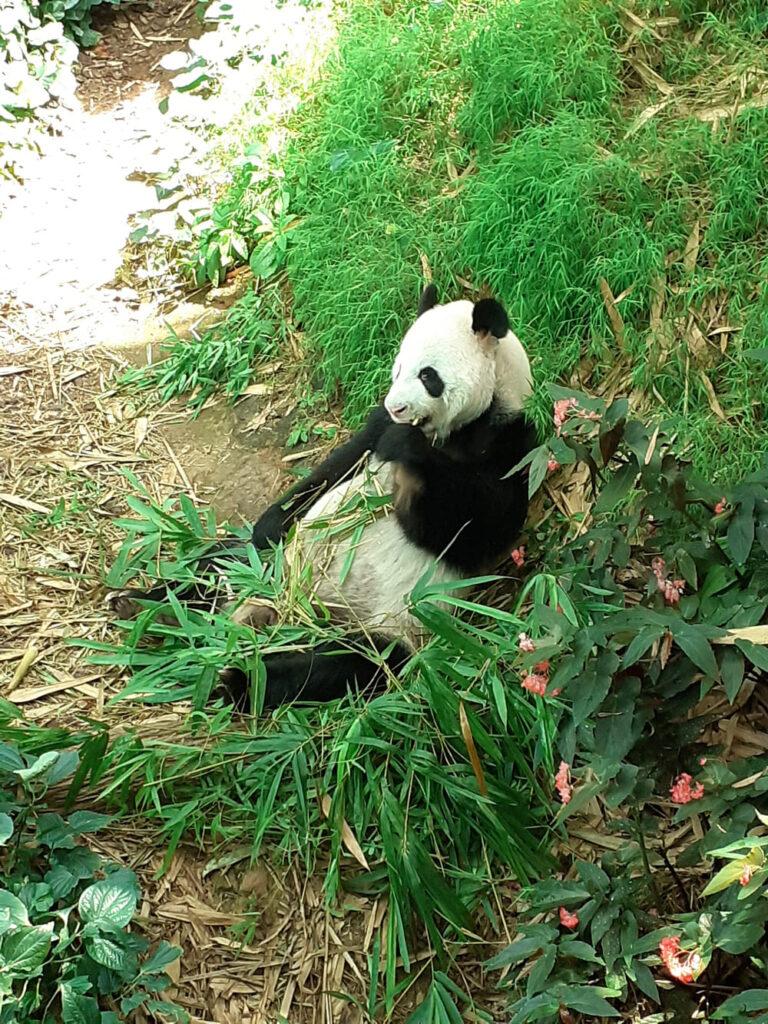 You won't find Giant Pandas at the SG Zoo, but you will at the River Wonders Zoo, also a part of Mandai Wildlife. As the name suggests, River Wonders is made of zones of aquatic animals and it's a pretty sweet day trip. While my other favorites were Manatees, Giant Otters, and the Monkey Forest, I can't help but think of the pandas here.
Visit the Flower Domes and ArtScience Museum
Gardens by the Bay itself is a sweet visit. But you see those large two-glass curvy structures, the Flower Dome and Cloud Forest. It's beautiful from the outside, but the sky bridge from the inside is breathtaking. Evenings just before dusk are the best time to visit them. The cool breezy weather adds up to it.
Hike the MacRitchie Reservoir Nature Trail
I'd planned this out on my solo Singapore travel, but I ran out of time. Besides the real MacRitchie trail for a round trip is a good 3-5 hour hike. For hiking, running, or simply an enthusiastic walk, MacRitchie Reservoir is just right with its tropical rainforest nature trail.
Get on the Sentosa Cable Car
This is another Singapore tourism highlight portrayed along with Sentosa, the cable cars going past hotels from Mount Faber Line. This is one way to enter Sentosa or get around the island. Aside from transport, visitors do usually experience the round-trip over Sentosa Line or Mount Faber for its amazing aerial views.
Walk the Botanic Gardens
Another budget-friendly place is the Botanic Gardens. It's free to visit most of the Gardens and it charges a minimal fee for the National Orchid Garden (about SGD 5). I've visited once and I'd highly recommend it. I remember checking out the carnivorous plants like Venus FlyTrap here!
Experience the SEA Aquarium at Sentosa
It takes an hour or two tops to get around yet it costs a hefty SGD 41 for admission. Though pricey, if you check up on the SEA Aquarium, you'll see what you're paying for. The world's largest aquariums, species like the large Manta Rays, the dim-lit theme itself. It's fire on a budget trip, but I've visited it twice. Moreover, if you're a fish-and-coral enthusiast, you'll love it.
The Singapore Flyer
This is optional, but this attraction stands right between the skyline of Singapore. One reason you might wish to take up this is if you haven't much time to explore Marina Bay, Raffles Place, and Merlion Park. It's a 30-minute flight to check these all out with a top view. Something worth paying for I believe.
Singapore Budget Travel Guide: Typical Costs
This budget for traveling to Singapore is based on my experience with budget travel. It's an idea of how much to expect to spend per day. The food, attractions, all of it. While traveling solo, I was staying in pod stays and dormitories to cut my accommodation costs (about SGD $22 – $30). But I also did stay in a suite on my last day when my family joined me.
For budget travel, expect yourself to stay in dormitories or space pod bunkers. I kept a water bottle as well to cut my drinking costs (which didn't stop me from vending machines juices). For food, you'll find tons of these cheap SGD $3-5 meal shops. You get reasonable dishes like Indian parathas, curry, Hainanese chicken rice, or meatball soups. You'll know it's the place when you see people bustling in at the after-work evening hours or lunchtime.
Spending on Attractions: I'd say attractions make up a huge chunk of a day's expenditure in Singapore. Sure, walking around Chinatown or Gardens by the Bay is free. But one visit to the Night Safari is a hefty deal and you simply can't miss such places. They're once-in-a-lifetime experiences. A Singapore Zoo ticket is SGD $48 and it's almost twice your night stay, but don't compromise on attractions.
Here's a table of my calculated budget for a day in Singapore depending on what type of travel you opt for:
Getting Around Singapore
Unlike most of Southeast Asia where the thought of overcrowded public buses is stressful, traveling to SG is something I'd always look forward to. The convenience of MRTs, LRTs, and bus shuttles is quite something. If you've got the time and some patience to look up the routes and stations, make use of it all – it's worth the effort. Singapore doesn't have the world's best transport system for no reason after all.
EZ-link cards
To make use of public transport, the best way for a tourist is to get hold of the EZ-link card. This card's exclusive focus is contactless payment for public transit. You can use it on any public bus, MRT, taxi, and even retail shops and restaurants.
Request it at any of the MRT station help centers, they'll be more than happy to guide you through it. When you initially get it, they'll top it up for you depending on your request. But you can also top up your card at the top-up kiosks here with cash. Once topped up, you can use it throughout Singapore wherever you wish to go on public buses, MRT, or taxis.
I'd recommend topping up SGD $20 – 40 for a week if you're going to use the card on all public transport. Expect to spend anywhere between SGD $4 – $5 per day (check your fare prices here) considering you use the MRT and buses everywhere you go.
Taxis and Grab
The other best way around Singapore is the taxi. It typically costs SGD $5 – $10 depending on the distance. Night charges get higher. I never used a taxi by myself. But when I traveled with my family, we used taxis everywhere. It'd cost almost the same via public transport and we could get around without much hassle.
You'll find dedicated taxi stands in most places you visit. But it's tougher to get a taxi when on the inner paths of Chinatown or Little India. The best alternative is to make use of Uber or Grab for booking your taxi. These aren't SMRT taxis and can sometimes have no indication that it's your cab.
As for the pricing, they don't differ much as all Singapore taxis run on their meters, and Grab charges fixed rates for the distances.
Singapore Budget Travel Guide: Where to Stay?
Tourism and transport are lucrative in Singapore. So is the accommodation industry! Marina Bay should be ideal for that. You can find a cheap backpacker dormitory for SGD $20 and the price keeps rising from there.
The bad news is that for a budget of SGD $20 – $30, you won't get a private room, unlike other parts of Southeast Asia. The good news? Most 'SG Clean' stays maintain their accommodation really well. I stayed in 3 different stays on my trip to learn more about them.
My favorite was the [email protected] – read my review here. This was where I stayed for the first night of my solo Singapore trip. I knew the place was cheap and didn't expect much. But it turned out really great! Apart from the bed exactly like the filmy space pod that we see on vlogs with its privacy, mirror, and fancy lights, the rest of the accommodation was just right.
Some facilities for all travelers were tap lockers, shared laundry washing machines (they charged extra for it), towels, a kitchen with an electric stove and a fridge, and a lounge area. The bathrooms, though of moderate size, were surprisingly kept clean.
What I loved most was that all the hostelers here were travelers as well – people visiting Singapore for sightseeing. Everyone talked with one another, made coffee in the kitchen together in the evenings, and discussed their whereabouts in the evenings. I joined along at a point with a couple of other travelers – one from Columbia and the other Chinese, about what they'd visited in Singapore so far.
So I'd say S[email protected] was my best hostel pick in Singapore among all.
Rucksack Inn
Rucksack Inn at Tyrwhitt, though with lesser privacy with bunk beds, was also an amazing experience with its well-maintained bathrooms and beds. It's a two-star hotel not far from Little India.
They have a moderate common lounge area for the coffee machine and bean bags to relax on. I'd say the place was cleaner and more spacious than [email protected], but again it's bunk beds. Spacepod offers more privacy with its futuristic 'pod' structure wrapped around us, and I felt more comfortable with it as a beginner traveler.
Tip for booking Hostels in Singapore
However, the third place I stayed in Little India, Campbell Inn was simply horrible. My best suggestion is to prebook your stay on Booking.com without paying first and check out the place first. Take it only if you're interested.
There are plenty of great budget hostels in Singapore after all!
Insider Travel Tips for Singapore
I wasn't sure about adding this section as I've already sprinkled its bitsy tips here and there. But there are quite a few things that I've yet to address. And some tips on how you could save more while traveling SG.
Here are some of my Insider Singapore travel tips:
Book your accommodation in advance: The weekends don't stand a chance in Singapore. Be it hostels or luxury hotels, they literally get booked out. Book your stay in advance and for better prices too. I recommend using Booking.com as you get to book first and pay later where you can check on the accommodation before paying for it.
Keep your documents handy: When checking into a hotel or sometimes at random checks in MRT stations, they ask for identity verification. I've faced a random check myself. Keep your passport, travel insurance, and vaccination certificate handy at such times.
Top up a little extra on your EZ-link card: Sure, this might be your only visit to Singapore, but I'd still suggest topping up your card extra. Some public shuttles don't accept cash if you're low on the EZ-link top-up. To avoid the hustle, keep your card topped up extra. You can always refund your money at the MRT ticketing centers.
Smile at people: Like in Indonesia, people in Singapore are hospitable, no matter where you come from and where you visit. Be it workers, the police, shopkeepers, or just strangers in the MRT, they're all hospitable. Respect and smile at them everywhere you go as a polite gesture. Be aware of talking about religion or politics – Singapore is diverse yet lives closely together. It takes its respect towards cultures seriously.
Guidelines for taking pictures/videos on MRT: Taking pictures or videos on MRT trains or public transport isn't illegal. But pictures of the ticketing office or CCTVs are a no-no. As long as it doesn't disturb people and you keep the photos for personal use, it should be fine. But the moment you begin taking pictures here, keep in mind you could be tracked for suspicious activity. On the safer side, avoid taking too many pictures on public transport.
Book all attractions from Klook. Any popular attraction has its own website to book and usually, it's no hassle to book. But I highly recommend Klook because when you book all your attractions from the same website, it gets you better discounts and deals on the next attractions. You might only save a dollar or two per ticket, but with the attractions many and expensive. every. deal. counts! Make use of Klook from here.
Carry a water bottle: Save up on drinking water by carrying a water bottle with you. You'll need to walk long distances at times when using the MRT and buses. You don't need a 2-liter can, a mid-sized bottle will do fine. You can fill up your bottle with tap water anywhere you go – it's free after all! Yes, Singapore's one of the few Asian countries where tap water is drinkable. Make use of it.
Here are some additional tips for Singapore from Australia.
Singapore Budget Travel Guide: Things to Pack
Singapore budget travel guide: There's no specific set of items to carry. But here are some essentials to keep in mind when visiting Singapore.
Comfortable shoes and socks (You'll be walking a lot EVERYWHERE)
Flip flops
Power bank and charger
(Universal) plug adapter. Some places only have the g-type plug.
Light clothes (less full pants and more shorts, like khaki shorts to be specific)
Masks and Sanitizers. You know the drill.
Small backpack for your day tours with just essentials like a water bottle, wallet, and charger.
Travel documents.
Mosquito repellent (just in case)
Sunscreen
Essential toiletries: Shampoo, soap, towel, deodorant, toothbrush, and toothpaste kit.
Locker lock and keys. Some hostels don't provide it.
Swimwear and extra innerwear for the beaches.
Plastic bag for damp clothes.
Jacket(s). The air conditioners in some places have gotten on my nerves sometimes.
Singapore Budget Travel Guide: Tailpiece
Wrapping up on this Singapore budget travel guide, I hope this post has been of some help to plan your trip. Singapore's one of the liveliest places in Asia and no doubt are unique. The discipline, people, technological modernness, and diverse cultures coming all together in a tropical hotspot are quite a blend.
Let me know about your Singapore trip in the comments below. Have a safe journey!