This Singapore Travel blog was inevitable. I've visited Singapore more than a dozen times now and not long ago, I even made a 5-days solo trip to Singapore. Though I've visited most places in Singapore, I look forward to visiting again.
Singapore's always got something new no matter how often you visit. I've yet to walk the MacRitchie TreeTop Trail and drink a glass of Singapore Sling at Raffles Hotel (I wasn't used to beverages on my last visit).
For a solo-travel beginner myself, I felt Singapore was by far the safest place to begin. The public transport, ease of communication, hospitality, and especially safety. Singapore is no doubt expensive compared to developing nations in Southeast Asia. But it's a good place to begin.
Singapore Travel Blog: Secrets behind Solo Budget Travel
Good news, the country has amazing services for budget solo travelers. Bad news, it isn't really budget travel when compared to Indonesia, Malaysia, or India. For example, you get fantastic SpacePod accommodation in Singapore. But you can get a whole room to yourself for the same price in the other countries.
Sticking to Singapore, to outline how your solo travel goes – here are a few keywords. Dormitory stays, spacepods, 3-dollar chicken-rice foodshops, MRTs and shuttles, and a whole lot of walking. The only other expense (and the highest) is your attraction tickets and tour guides.
For a total budget travel like I did, expect yourself to spend anywhere between S$90 to S$100 SGD per day. This includes your stay, meals, travel expense, and attraction passes.
There's a ton of stuff you can save on. The biggest one is transport. Singapore's got the best transport system in the world. Make use of it to your fullest. The MRTs and buses are most comfortable and reliable to literally any place you wish to go to in Singapore.
Having said that, here's how my Singapore travel blog went.
Singapore Travel Blog: My Solo Trip
Living in Batam Riau, Indonesia, I needed a solo trip for myself. A change. I was bored of staying home on vacation. I was technically busy working on my blog and practicing for a triathlon (I will participate one day). But I needed a change.
My initial plan was to head out to Medan, Indonesia. But my parents and I resided to choosing Singapore. It's closer and no doubt safer. It was my first solo travel afterall.
And so I went! I took the first morning ferry (BatamFast/SindoFerry) from Batam Centre to HarbourFront, Singapore. I packed no more than a large single bag that I'd carry throughout. A number of denim shorts, shirts, emergency cash, sun lotion, and a pair of extra socks. And of course, my phone charger!
I pulled up my sports shoes and backpack and off I went! My first stop in Singapore straight after alighting at HarbourFront, Vivocity, was the far end Singapore Zoo.
Singapore Zoo/Mandai Zoo
Among all the things to see, I felt Singapore Zoo has the highest value for money. It takes a whole day to get around the zoo. And I spent a good 5 hours here before my legs began paining.
From HarbourFront, I topped up my new EZ-link card at underground MRT Station and headed straight to the Zoo. There's no MRT connectivity to SG Zoo. The easiest route is by getting off at Khatib MRT Station pinpointed on North South line headed towards Jurong East.
Get off at Khatib Exit A and get onthe Mandai Shuttle straight to the Mandai Zoo. I reached the zoo and got my tickets exactly at noon. You can have your meal at the zoo entrance restaurants or some select restaurants inside the zoo like the infamous Ah Meng Restaurant.
I chose to stick a super tight budget so I'd packed my lunch for the trip. While I ate at the zoo entrance table, a peacock gracefully walked around! I'd been to the zoo as a kid before and here I was again strolling among all the beautiful creatures again.
Grab your Singapore Zoo tickets today! Book your SG Zoo ticket and avail the best discounts on Klook.com. Being a partner of Klook.com, our readers always get the best deals, so check it out below!
I walked through all the zones till the end, made use of the tram, and attended the Rainforest Fights Back show at Shaw Foundation Amphitheatre.
Getting out of Mandai Zoo in the evening and back to Khatib Station, I had a meal at Khatib's Foodshop for S$3.5 before I left for my backpacker's stay. It was a pretty sweet beginning!
National Gallery Singapore Museum
Day 2 in Singapore, my first stop of the places that most don't visit in Singapore was the National Gallery in Singagpore. The National Gallery Singapore, the former supreme court building of Singapore, was my best decision.
It isn't a place for kids to have fun. If historical architecture, vast spaces with variety of artworks, and simply large spaces is your thing – then this is for you.
Imagine walking in the house which once held power in the country. The same houses portrays and depictions of people's lives and struggles today from a range of timeline. The popular feature of the National Gallery is the connection between City Hall building (also part of a museum today) with link bridges.
While converting both historical landmarks into a museum, this space between the two buildings shows how the remake made sure it doesn't affect the existing architecture. You'll know when you find gigantic metal tree holding up the roof between the two!
The museum is free for Singaporeans. It cost me S$15 for a pass with student concession (S$5 off). Read about the National Gallery on this post. I stayed at the gallery for a good half-day till lunch.
Clarke Quay River Cruise
This wasn't planned but I'd seen those bumboats ride through the Singapore river and by Marina Bay and the skyline. If Singapore had a wallpaper, it's a piece that adds to the puzzle. But when I did get on the Singapore River Cruise from Clarke Quay, I realized it was worth the 1-hour ride.
Getting to Clarke Quay, I took the bus no. 32 from City Hall Exit B, straight to Clarke Quay. It's no more than a kilometer away. The only mistake I made was getting to Clarke Quay in the afternoon. This is a place that comes to life in the evening – like most popular hubs.
At noon, bars, restaurants, and clubs were still asleep. When I got my River Cruise tickets, the Hooters was still opening up. Talking of the River Cruise, it takes you through the SG river. Running by some of the country's most historic landmarks like the Fullerton Hotel, bridges like Cavenagh Bridge, Singapore Merlion, and Old Hill Street Police Station.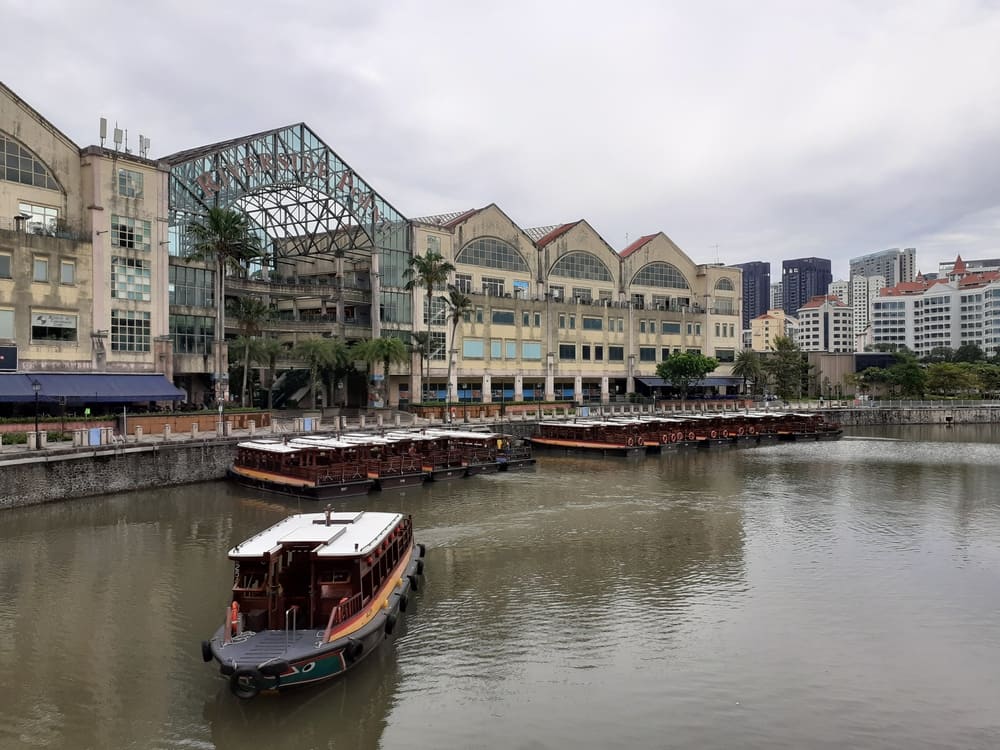 Some other familiar buildings to spot are the Esplanade, Asian's Civilisation Museum, the city Skyline, and ArtScience museum. It costs S$28 per head and lesser for children. Get your ticket discounts from Klook.com for the best offers!
Marina Bay Sands and Gardens by the Bay
After Clark Quay, my next stop was Marina Bay Sands. While the iconic building is easy to recognize from miles away, it's fairly confusing to get the right exits. I got off at Bayfront (CE1/DT16) right below the Marina Bay Sands building. I exited the station and crossed BayFront Ave road to The Shoppes at Marina Bay Sands and Sands Expo Convention Centre.
Walking through one of Singapore's most luxurious malls and past Sampan Rides at the bottom level – the Shoppes, my evening at the place began. I missed out on the Skypark Observation Deck and the ArtScience Museum. It was already 6:30 pm and I'd be late.
Instead I took a long walk from Singapore Skyline Deck infront of the Shoppes, around the ArtScience Museum, a bit on the Helix Bridge, and then the Flower Dome and Cloud Forest. With the evening cool and windy, it was the best nights in Singapore traveling solo.
By the time I came under the OCBC Skyway bridge in Gardens by the Bay, the sun had set and the groves were shining now. The latest addition to Gardens by the Bay was Floral Fantasy. But later on, the newest addition is the Cloud Forest featuring Avatar. An Avatar themed garden – how cool's that!
By the time I came back to Bayfront Station, I was drowsy beyond words.
River Wonders Singapore
Back to the Mandai Zoo too soon? I know! When I went to the SG Zoo, I got the multi-attraction pass with River Wonders as well. I recommend you do the same too! It saves you tons and the best part is that the tickets are available for 7 days.
I'd heard a lot about River Wonders but what I realized further was way more fantastic – I found Giant Pandas! Most of River Wonders is of river fish and species, panda zone, monkey forest, and the main Amazon River Quest. I missed out on Amazon River Quest as I hadn't booked it beforehand online (offline booking isn't available).
Some other species I witnessed were large anacondas, giant river otters, manatees, and lion-tailed macaques. Read about my River Wonder visit here.
While River Wonders isn't obviously as large as Singapore Zoo, it is a pretty interesting part of the Mandai Zoo and is definitely worth visiting. However, I was back to the entrance within 2.5 hours and was disappointed it ended so fast.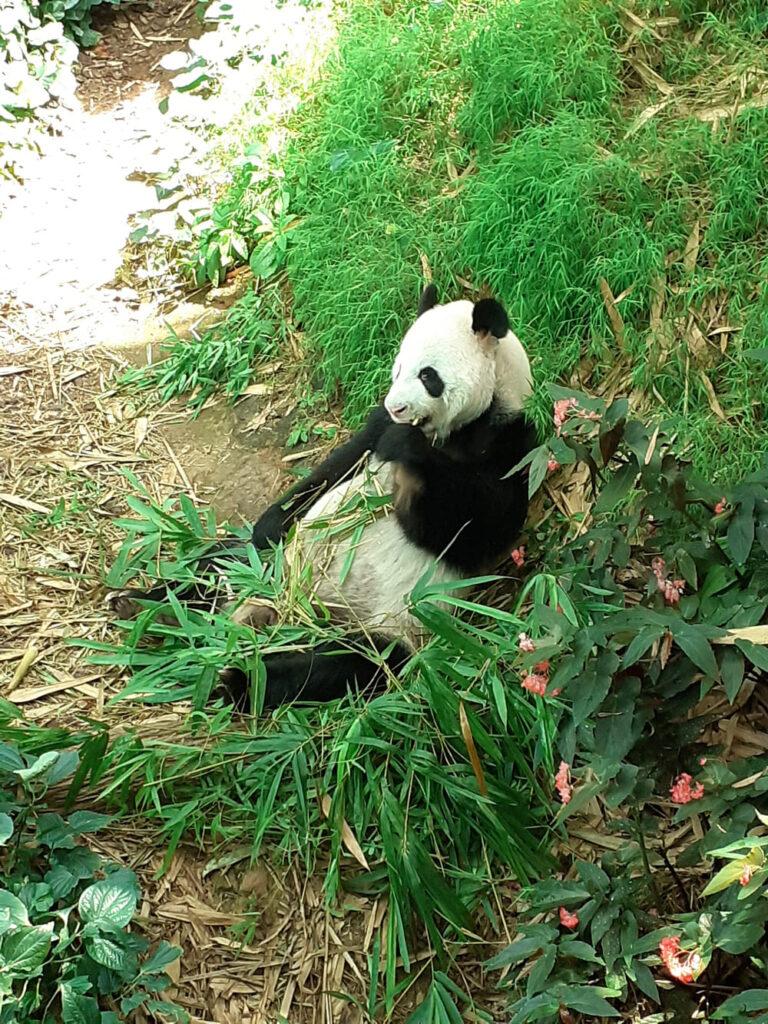 Exploring Chinatown in Singapore
My second stop of the day was Chinatown, Singapore. I visited at the perfect time late at afternoon when the place would come to life. While it's mostly a bunch of hawkers and lively street markets, there's a good share of things to check out here.
In fact, check up on my Chinatown guide to avoid missing parts of the place. It's best to explore by walk here. Some things to check out in Chinatown are:
Maxwell Food Centre (a foodcourt)
Buddha Tooth Relic Temple
Shri Mariamman Temple
Telok Ayer Street
Mural Paintings around the whole place
Pagoda Street
Chinatown Heritage Center
Learn in detail about each spot on my Chinatown travel blog. While there are quite some places to get around here, it's not that tough to get around Chinatown within an evening. Make sure to get to places like the Buddha Temple, Heritage Centre, and Mariamman Temple first as they have early close timings.
The hawker stalls and tiny shops stay open anyhow.
Sentosa Island, Cable Car, and S.E.A Aquarium
The last day of my Singapore budget travel was at Sentosa Island. My brother and parents joined me for my last day as they were to visit Singapore as well. So I woke up and headed straight to VivoCity Mall, HarbourFront Station to join my family alighting from the ferry.
From there, we headed out to Sentosa Island via the monorail from Level 3 of the mall. It only costs to enter Sentosa from monorail ($4 SGD) but its free to use for anyone inside. Other ways to get to Sentosa Island are Sentosa Boardwalk (walking – it's free!), car, and Cable Car (Mount Faber Line).
For students, seniors, persons with disablities, concession card holders, a discounted fare is available.
We didn't get on the Mount Faber Line but we did wish to try the cable car. So we took the Sentosa Line (at WaterFront Station, Sentosa) till Siloso Beach, spent some time there and back.
Later, the main part was of course, the S.E.A Aquarium – one of the must-visits of Singapore. It's one of the top Sea Aquariums in the world afterall! My brother tagged along for the aquarium. My favorites were the Reef Manta Rays, tentacled Sea Nettles, and weedy Sea Dragon.
Singapore Travel Blog: Other Places I've visited Before
I planned out this Singapore solo trip myself leaving out the places I'd already visited. I did visit the SG Zoo again because I'd visited it way back as a kid. It was worth the second visit as well. As for the other places, I've been fortunate enough to visit others before.
Nevertheless, I still missed out on a couple of things to do in Singapore. The Singapore Sling at Raffles Hotel, a show at the Esplanade, and the MacRitchie Nature Hiking trail of 11 km or so.
Here are some other places to visit in Singapore that I've been to before.
Universal Studios Singapore
Even as a teenager, USS's among my favorites in Singapore. I visited the Universal Studios with my family just before the lockdown. My brother couldn't come in many rides and my dad found rollercoasters scary. That left me and my mom trying out the rides.
With so much childhood references like Sesame Street, Minions, and Shrek, I simply couldn't help but smile like a nincompoop throughout our walkthrough. You'll need a one-day admission ticket to enter.
It costs anywhere between S$71 to S$100 depending on season and vouchers you pick along with the one-day pass. It's on the expensive end of attractions but the USS is something like the SG Zoo. You'll need a good whole day to get around the place and it's ultimately worth the price.
But to get better of the deals, I recommend using Klook.com for booking your tickets. Check out your best offers for Universal Studios and get your tickets below today.
Bird Paradise (it was Jurong Bird Park then)
Bird Paradise, a part of the Mandai Wildlife Reserve today is the replacement of Jurong Bird Park which closed in January, 2023. The avian species here and staff has shifted now to the brand-new Bird Paradise Mandai. But I've yet to visit it.
I've been to Jurong Bird Park before and I wouldn't mind visiting again (the new one). Falling under Mandai Wildlife, it's another large paradise for literally anyone, any age. I visited along with my parents and I still remember the shows, the trained Macaws – the High Flyers Show.
Like the Singapore Zoo, it takes a good 1 day to get around the park and with its zones, it has some of the best features in the world. The Loft Lory zone has the one of the world's largest walk-in aviary. The Waterfall Aviary houses the infamous 35-meters man-made waterfall.
For any attraction under the Mandai Zoo, I recommend getting tickets in bulk to save a good amount of money. The best part is that the tickets are valid for 7 days after purchase. So you can visit different places on different days.
Botanical Gardens Singapore
I couldn't let this out of the Singapore travel blog list. I didn't know when I visited back then, but I did find out that the Botanical Gardens is recognized as UNESCO World Heritage Site – the first tropical botanic garden. It takes a couple of hours tops to walk around the green paradise.
It's free to enter the Botanic Gardens but to see the highlight – the National Orchid Garden, it costs S$3 to $5 per person. I remember visiting the air-conditioned part of Botanical Gardens, getting scared and excited of carnivores plants like the Venus Flytrap here.
It turns out, Venus Flytrap isn't as frightening as in Journey to the Center of the Earth.
Jewel Changi Airport
Another must-visit on this Singapore travel blog! Changi Airport in Singapore, isn't just any airport. I like to think it as an attraction and Jewel Changi is built at its heart. When you're flying from Changi, give it some time and visit the Jewel Changi connecting all the large four terminals.
While it doesn't cost for local residents or travelers to visit Jewel Changi, its attractions like the canopy park costs S$8. I visited the Jewel Changi in the evening. I didn't get on the Canopy, but boy does the neo-futurism architecture of the waterfall looks good.
Pulau Ubin, an Island
Last but not the least is Pulau Ubin, Singapore. I've never been here before and I heard of it only recently. It's an offbeat part of Singapore for tourists. But the locals do go here to get away from the hustle and bustle of the city.
Speaking of which, Pulau Ubin is an island 15 minutes away from Changi Point Ferry Terminal on a bumboat. It's Singapore's last remaining kampongs and it's so small you can get around by walk or cycle! The island remains as an abandoned granite quarry today.
If you're looking to camp, hike, kayak, or simply explore the nature rich place, Pulau Ubin is just the spot!
Budget Singapore Travel Blog Tailpiece
Ending this Singapore travel blog, there's always more to do. How about the hiking Bukit Timah or getting on the Singapore Flyer? There are tons to see around Singapore if you simply stroll the streets. Budget traveling Singapore, I loved staying at a SpacePod at Lavender – it's something worth the experience as well.
All the places I've mentioned in this article, do your best to visit them all! Don't miss out on the must-visits. But don't forget to explore the streets yourself too. Singapore's one of the safest countries in the world, enjoy while you're here!
Walk around Raffles Place, shop a little in the Gelang Area. That brings me to end this Singapore travel blog. That's how my Singapore budget travel went. Let me know how your trip goes!
Happy Journey :)
*This post contains affiliate links.