Batam Travel Guide: Though I don't live in the Batam Riau islands anymore, I've lived there for almost 8 years and I still visit the place from time to time. To those of you who don't know, Batam Riau is a city about twenty kilometers from Singapore.
While it's considered a city, I'd still like to call it an island as that's what makes it all the sweeter for a summer vacation. And I assure you, it's perfect for a summer vacation!
Say you're looking forward to visiting a lot of places in a short span of time, then this trip to Batam must be the one for you. The best thing to do is to visit Singapore and Batam Riau in one go. And visiting Batam for 3 days would be sufficient to taste crisp salt in the air by the beaches.
Batam Travel Guide: How to Get to Batam?
Being stowed away on a group of islands, international flights don't take you to Batam. However, here are 2 simple ways to get there.
Take a Flight from Jakarta
Batam Riau has an airport for local flights. Get there from Jakarta – Indonesia's capital city. With the COVID-19 situation, this is the only way to get to Batam:
For people traveling from Singapore:
Fly straight to Jakarta or take a connecting flight from Singapore via Changi Airport.
Take a flight from Jakarta to Hang Nadim Airport, Batam.
From other countries, take a direct flight to Jakarta. It's a 1-hour flight from Jakarta to Batam Riau.
Board a Ferry from HarborFront, Singapore
The best way and route that I always use is a 1-hour ferry ride from Harbourfront, Singapore to Batam Center.
For outsiders, it takes another hour's drive from Changi Airport to HarborFront in Singapore.
Note: Due to the pandemic, regulations keep changing from time to time. Check up on the latest news in Indonesia and Singapore before traveling. Also, consider the quarantine hotel charges for tourists when visiting Indonesia. It's expensive!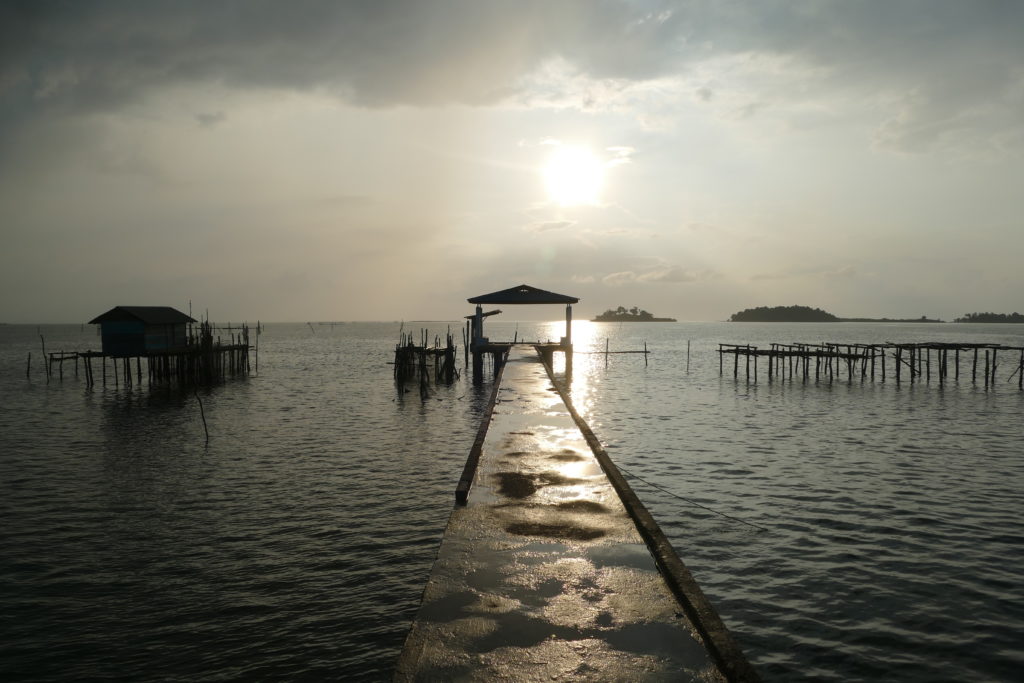 Batam Travel Guide: Things to know before you visit Batam
Before you pack your bags and this Batam travel guide, there are some things to know beforehand. Especially to travelers foreign to visiting Indonesia, knowing these things shall let you know what to expect here.
Best time to Visit Batam
All-time of the year! The seasons don't change a lot in Batam. Located on the equator line and close to the sea, it's very humid. It's hot most of the time. When it rains, it rains cats and dogs!
The only thing to consider while planning your vacation is the peak times. Singaporeans, being an hour away, love to spend their holidays here by the beach. Prices of stays also go up during the peak times.
Time your stay during the weekdays for a quieter stay. It also helps avoid the weekend traffics when visiting the Barelang Bridge.
Most Locals Don't Speak English
Learn some Indonesian language basics when going out to restaurants all by yourself. Most locals don't speak English in Indonesia. However, with the growing tourism sector, you can find guides to help you out.
Communication shouldn't be a problem in resorts. But when purchasing in malls, local shops, restaurants, and cabs, it's challenging. Learn some basic Indonesian phrases. Here's a list of phrases I made to help you out.
It's hard to Get Vegetarian Food
Being a vegan or vegetarian in Batam is hard. The traditional local delicacies here like the Nasi Padang comprise chicken as its prime ingredient.
It's difficult to get vegetarian food in any Indonesian Cuisine. At least the curry that you eat along with rice would be of chicken flavor.
While I've no issues being a non-vegetarian myself, my mom finds it difficult to eat outside. Thus we get groceries from Singapore to make many Indian dishes at home.
Speaking of foreign cuisines, there are many Indian restaurants here for vegetarian food. Some of the popular ones are Maharaja restaurant and Taj.
Payment in Indonesian currency
It's confusing to people whenever I explain Indonesian currency to them, so I decided to add to this Batam travel guide. The Indonesian Rupiah (IDR) always has more zeroes than one expects.
1 USD is equal to 14,530 IDR today. But that doesn't indicate anything of Indonesia's currency value. Consider the other currencies. 1 dollar is made of 100 cents. The Indian 1 rupee is the equivalent of 100 paisas. But the Indonesian currency isn't divided further into any unit.
Thus, the last three digits in the Indonesian Rupiah are similar to the cents in a dollar. Thus you'll see 1000 IDR coins and 100,000 IDR notes. It costs around 5000 – 10,000 IDR to purchase a cheap pen here. So it's pretty much of the same value as most Asian countries.
Last but not least, bring your summer clothes and nothing else – be it any time of the year.
What to Pack for Batam
In summary, things to pack when visiting Batam are:
Light clothes and swimwear
Shoes
Sunglasses
Head caps and sun lotions
A Camera!
Indonesia, being a tropical country, there aren't many essentials to carry around. Keep your clothing light based on the length of your stay. Keep lesser clothes in case you're planning on shopping in Batam.
A good pair of shoes and sunglasses will do. But wear a head cap when you go out, the heat is unbearable sometimes. To those with skin issues, bring sunscreen lotion.
Batam travel guide – Visit the Barelang Bridge
The first place to visit is the Barelang Bridge in Batam. There's no way this Batam travel guide is complete without it.
What makes it unique is that the bridge's laid across two islands with the help of cables. The enormous, thick metal cables holding up the bridge in perfection make it all the more alluring.
It's the most famous landmark in Batam. Look up Batam Riau on Google, it'd be one of the first things you'd see.
Note: Don't visit the Barelang Bridge on a weekend. Visit it on an evening on a weekday. As on the weekends, it isn't about the heavy traffic. It's about the bike races: On Sundays, the locals gather up on the bridge to race along with their friends or sit around with their friends. It gets too crowded at night.
These bike races are illegal. So along with the traffic, cops come along, making the place even more chaotic. So I'd say it's a no for tourists on weekends.
Corn by the Barelang Bridge
When you're on the bridge, go up a little ahead to the next island. You'll find rows of street corn stalls on both sides (more on the right though). For those into corn, this is one of the best you'll taste.
What makes it so special is the local flavors that they offer. The corns come in chilly, sweet, plain, and cheese/butter flavors. They use different sorts of spice sauces for flavoring these.
When I was a kid back then, I didn't like it a bit. But when my lips touched it, it became an addiction.
The stalls are open for most of the day. But they're best in the evenings! They call corn, 'Jagung'. Just say 'Mau Jagung!' which means 'I want corn!' and they shall smash up a delicious one for you!
Indonesian Delicacy: The Nasi Padang
No nasi padang, no Batam travel guide. I like to think that everyone knows Nasi Padang when it comes to Indonesian cuisine. It's incomparable to any of the non-vegetarian dishes that I've tried so far here. It's so good!
Now Nasi Padang isn't a specific dish with a specific flavor here. It's steamed rice that is served with pre-cooked sides of your choice. By tradition, they're stacked up in a pretty arrangement of plates with a variety of choices.
The word says it all. 'Nasi' in Indonesian means rice. And Padang is the place that the cuisine originated from.
Be it Bali or Jakarta, you'll get it, there are many restaurants to find Nasi Padang. However, there are a select few best Nasi Padang restaurants. I'd recommend trying Sederhana for Nasi Padang in Batam.
Golden Prawn Seafood Restaurant
Other than Sederhana, the other restaurant that's worth checking out is Golden Prawn. Golden Prawn is much more expensive than Sederhana as they specialize in Seafood.
Considering the quality seafood they serve, Golden Prawn has plenty of branches in Batam. All of them serve great. So look up for it and then find the nearest one.
Here, we can pick crabs, fish, prawns of our own choice to eat! Thus there isn't a doubt about its freshness and quality.
One popular branch is Golden Prawn 933 by the seashore. Any local you ask will tell you where it is.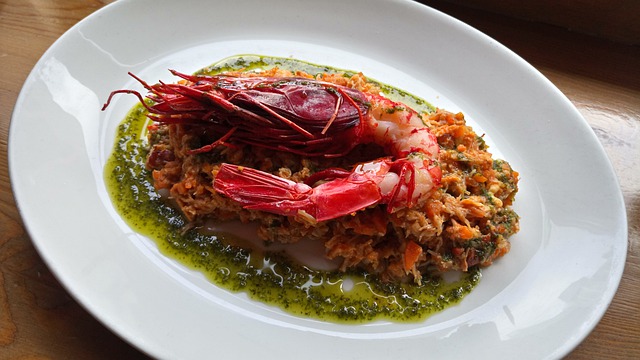 Stay by the Beach
Indonesia is popular for its shores and beaches and holiday-ish type of climate. So when finding a stay for yourself, I'd say get one by a beach.
My favorite one in Batam is the Nongsa Point. I've been living on the island for 8 years and we prefer the same resort whenever there's a long holiday.
The resort's pretty large in terms of area. For the stay, they have huge chalet houses all over the hill that they built on. Most of these chalet houses have a floor-to-ceiling window and balcony that overlooks the sea on one side.
Here are some accommodations by the beach I recommend (I've visited all of them):
Find the best deal prices on these beachside resorts using the map below from Booking.com. Thank me later :)
Remember I told you about Singaporeans coming to Batam to take a break? Well, they usually end up here at Nongsa Point. Some of the foreigners also harbor their private yachts at the resort during their stay.
Budget Accommodation in Batam
There are also many homestays available for solo travelers or people traveling on a budget.
When people say it's cheap visiting Indonesia – for budget travelers, yes! Some homestays even start as low as $10-$15 per night. Here are some great deals I found on HostelWorld. Go check them out now!
Batam travel guide: Water Sport Activities
When you're in Indonesia for a trip, be it Jakarta, Bali, or Batam, you can't leave without some water sports. Just like Nasi Padang, water sports stands out as a highlight.
For one, it's the obvious- the climate and the humidity, you need to plunge in for a dip. Two, they've got a wide range of activities- from banana boat rides to scuba diving and even yacht chartering!
And since there's so much of it, the prices are pretty reasonable.
One water activity you shouldn't miss out on here would be snorkeling. Indonesia is known to have some of the best marine life spots. But there's a hitch to it.
Sure, many resorts and beaches do offer snorkeling, but not all of them are that great. There are particular spots that give the best snorkeling experience.
Visit Abang Island near Batam
One of the best offbeat snorkeling spots near Batamis in Abang Island. It's a 1.5-hour drive from Batam Riau Islands to make it to Abang Island.
Visiting Abang Island is more of a responsible travel sort of tourism staying with the locals. Check out my 1-day visit and guide to Abang Island.
They don't have plush accommodation, but it's worth staying a night to see some fabulous life underwater. Since it's isolated, the spot remains untouched by many and brings us as close as possible to nature.
Malls, pubs, and live music
Apart from the resort, the water activities, and snorkeling, what's left out is shopping! You get quality services here at cheap rates.
Some Singaporeans come to Batam with suitcases filled with clothes- just to get their laundry done!
Keep a day or more for shopping in Batam. It's got some pretty big malls. Just in Batam Centre, there are almost a dozen! And some of these malls have pubs and live music.
Though many locals don't speak English, they sing English songs perfectly on the live music avenues! It's fascinating because sometimes it so happens that when you ask them what the song means, they'll tell 'No, not at all. It just sounds great.'
Well, coming towards the end of the Batam travel guide now, that's all the places to visit in Batam. The island isn't that big so feel free to take a walk on the street. Hope you have a great vacation!
Other articles on Batam that I wrote:
---
Batam Travel Guide: Find this post useful? Pin this post for later: