9 Best Places to visit in Musandam – Musandam is a pristine, beautiful drop of land located in the Omani Peninsula. It is surrounded by the Omani and the Persian Gulf, separated from the UAE by a strip of land. Here are the craziest things to do in Musandam.
So dramatic are its mountains and the roads that literally hug their sides, that Musandam is known fondly as the 'Norway of Arabia'.
Spend a few days in Musandam and refresh yourself with lovely oceanic views, mountain 4WD rides, boat tours, limestone coastal scenery, and much more.
Places to Visit in Musandam: Mode of Travel
There is more than one way to travel to Musandam.
Mode of Travel and Time Taken
By Road

: Musandam is accessible from Ras Al Khaimah (RAK) by road, and also from Fujairah's Dibba border. The nearest airport is Dubai International, from where it's a 2-hour picturesque mountain drive to Dibba.

By Air

: You can grab an Oman Airlines flight from Muscat to Khasab and avoid the entire road experience, though you will miss out on the fabulous views. If you are traveling during the holidays, you might be able to charter flights through Gulf or Emirates airlines from Dubai to Khasab.
Also check out: Saudi Arabia Travel Guide: An immigrants take!
Musandam Entry Processes
If you have a UAE tourist visa, you can get an Omani entry visa that's free for ten days. This depends entirely on your nationality, so be sure to check with your embassy. If you don't have a UAE tourist visa, purchase an entry visa at the Omani border. Visa expenses will be 50AED for UAE residents. Non-UAE residents will have to pay 200AED.
You'll have to pay less or more for your visa depending on your nationality. Your visa might take one to several hours to materialize, so be patient.

Obtain a token from the visa officials for your car and the number of people in it. The border police will need this when you enter Musandam.

Obtain Omani insurance for a private vehicle. If your vehicle is rented, obtain a printed confirmation of the vehicle insurance.
1L gas costs only 0.05 Omani Riyals. Carry plenty of empty gas cans and fill them up at petrol stations in Musandam.

When you exit the UAE or enter it again from Oman, you'll have to pay a fee of 10USD.
Transportation Facilities in Musandam
The best way to tour Musandam is by 4WD, private or rented. Musandam does not have any public transport. You can travel to different points by boat as well.
Things to Do in Musandam – Where to Stay?
Musandam has several hotels, including ones bearing 4 and 5 stars. There are guesthouses, including a guesthouse for divers (with diving equipment and food).
Alternatively, you can camp on the beach (obtain permission from the Musandam Municipality).
Best Time to Visit Musandam
If you're into diving, then visit Musandam between October to January, when the water's a nice, cool 21 degrees Celsius (69.8 Fahrenheit).
Else, visit from October all the way till March, when the heat's still bearable.
Travel Tips To Follow when Touring Musandam
Keep your 4WD stocked with plenty of tires, water, food, and other necessities. The mountains don't have any shopping facilities or even assistance.

The dust and heat will take their toll on your vehicle, so keep your vehicle well serviced.

You'll find many Omani military training centers along the roads. Military vehicles have right of way, so don't insist on getting ahead of them.

Note that it is strictly forbidden to take pictures of military installations, vehicles, or soldiers.

If you are in Musandam during Ramadan, do not eat, smoke or drink in public, while on land. There are specific hotels and B&Bs that serve food during the day.

Take advantage of the special discounts and offers that are on in luxury hotels during Ramadan.

During summer, when it gets very hot, you can enjoy great discounts on airfare, accommodation, dive packages, tour packages – the lot.
Why Visit Musandam?
So what makes Musandam so special? While the other countries are home to mind-blowing manmade wonders, in Musandam you will experience nature's artistry at its very best.
Beautiful fjords, fabulous underwater marine life, excellent dive sites full of amazing coral, mountains that beg you to explore them. Feast your eyes on dolphins and manta rays underwater, while magnificent mountains and cliffs offer you amazing oceanic views.
You'll also find lovely traditional villages accessible only by boat; these villages reflect the traditional Persian Gulf culture, such as the Qeshm Island in Iran. All of these await you when you go to Musandam.
A Brief History of Musandam
Musandam's people follow traditional Persian Gulf culture, with Iran being so close. Once a part of a Persian kingdom during the medieval times called Ormus, Musandam later became part of the Portuguese empire.
The people of Musandam speak a language called Kumzari, which is derived from Arabic, Persian, Hindi, and Portuguese. Today only the people of Musandam speak this language, so it is endangered. People also speak Hindi and Arabic.
Things To Do in Musandam
Here are some of the top places to visit in Musandam and things to do in Musandam:
Go scuba diving and snorkeling
Visit Khasab Castle
Explore the Enchanting Fjords
Enjoy Musandam's Beaches
Enjoy a Speed Boat Tour
Explore Jebel Harim
Go Parasailing and Paragliding
Visit Khor Najd Bay
Go Fishing
Phew! There are tons of things to check out. Let's go over each activity in detail:
1. Go Scuba Diving and Snorkeling
Musandam's marine life is world-famous for the most colorful schools of fish, many kinds of coral, and manta rays. You can obtain diving gear at a diving center along with diving instructors. Love those cute button-nosed dolphins which come out of the water just to say hello to you?
You can also spot plenty of friendly dolphins, both the humpback and the bottlenose ones.
2. Visit Khasab Castle
Khasab is Musandam's capital city. It was built in the 17th century by the Portuguese colonials, who wanted to monopolize the Strait of Hormuz. This castle was used by Omanis when they kicked the Portuguese out of Oman, after which it became a prison and the residence of Khasab's governor.
Tourists can view weapons, jewelry, clothes, wedding decorations, and kitchen equipment that were being used during the Portuguese occupation. Khasab Castle has a few traditional Omani boats from days gone by, and models of several buildings used to store dates and study the Quran.
3. Explore the Enchanting Fjords
Take a Musandam Dibba dhow cruise or get on one of the local boats and explore the gulf waters. Gaze in awe at the frothy water pounding through the rocky inlets or fjords. Chat with the locals and enjoy some Kahwa, which is Omani coffee along with dates. If you like, you can take a swim in the azure waters.
4. Enjoy Musandam's Beaches
Places to visit in Musandam – Musandam has thousands of kilometers of pristine beaches with turquoise waters, golden sands, and many rare birds. The beaches are clean and unspoiled and offer great views of the surrounding mountains and cliffs.
You can go camping on the beach, swim in the water, go boating, or just lounge on the sands. Be sure to visit Khasab Beach, Bassa Beach, Khor Najd, and others. The beaches are one of the best places to visit in Musandam.
5. Enjoy a Speed Boat Tour
Musandam's amazing crystal blue waters and fjords are perfect for some speed boating. You can either rent a boat or join a speed boat tour and travel along the picturesque coastline. You will thrill at the speed, the winds, and the amazing views of the sea and mountains all around.
6. Explore Jebel Harim
The highest point in the region, Jebel Harim (Mountain of Women) is 2,087-meters tall. Women used to hide up in the mountain to save themselves from pirates, which is how this mountain gets its name.
Enjoy some fabulous views while trekking or while riding along the amazing mountain roads that take you up to the peak.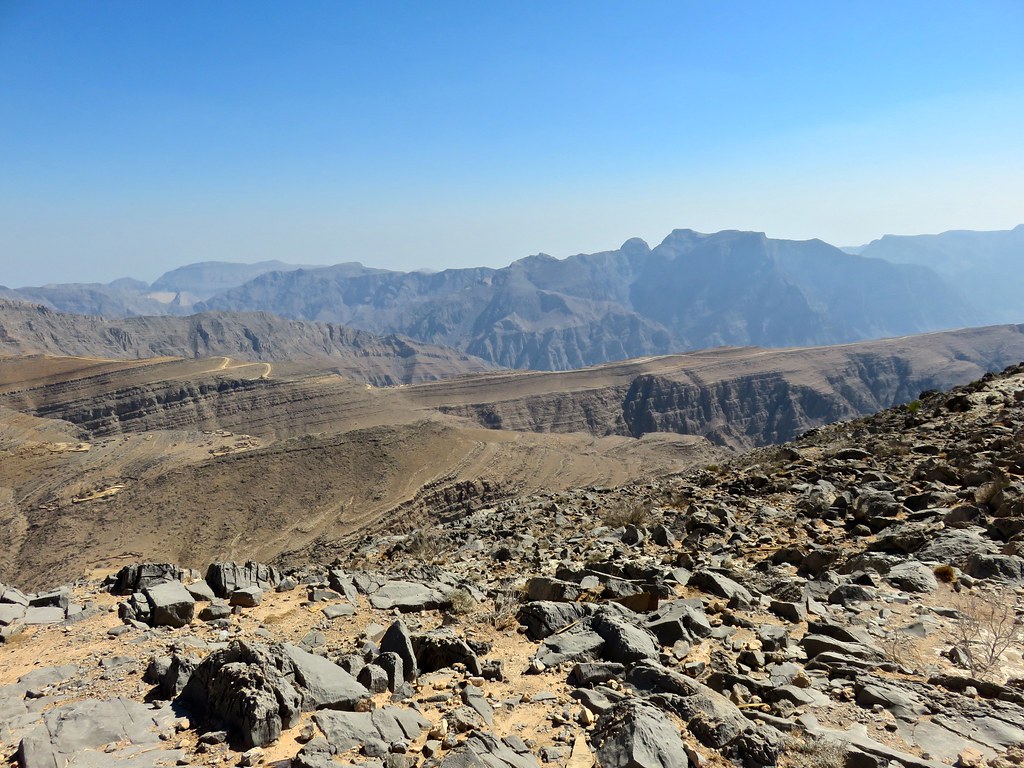 7. Go Parasailing and Paragliding
Things to do in Musandam -With tall mountains, cliffs, and incredible valleys, Musandam is just perfect for both parasailing and paragliding. If you long to be sailing high, enjoying the best views in the world of pristine beaches, bays, lush valleys, mountains, and more, paraglide over Zighy Bay, which is 1,000-feet above ground.
8. Visit Khor Najd Bay
Musandam is all about natural beauty in remote places, and one such is the extremely enchanting Khor Najd Bay town. Located about forty minutes from Khasab, the road takes you through amazing mountain and valley views.
Enjoy watching the fjords from a height and photograph some of the best landscapes in the world.
9. Go Fishing
Where there's plentiful water, there is bound to be plenty of fish, and it's true of Musandam's waters as well. Fishing is a sport that many tourists enjoy here. You can go kayaking by yourself and try your hand at fishing with a rod, or join a proper fishing tour.
Conclusion
These places to visit in Musandam are worth every penny and every moment of time you spend. The untouched wilderness that is laid out in front of you no matter where you look will truly take your breath away. When you are in the UAE on vacation, spend a weekend and these are the things to do in Musandam.
You'll go back there time and again!
This is a guest post by Neha: Neha is a postgraduate in Mass Communications and a keen writer. She is passionate about traveling to new places, reading fiction, learning new things, and loves being a nature trekker.
Other blogs to check out:
---
Like this post? Pin it for later: