Having visited Dandeli years ago, I visited the town amidst forests again in 2023. Thus making this my second blog on Dandeli. Read my first blog here. However, I'll name this post things to do in Dandeli to avoid repetition.
Dandeli, as most state locals know, is a popular weekend getaway spot for many cities around. The main features of the town are its forests, trekking places through them, and the infamous Kali River passing through.
It's quite an imaginable scenic spot and there's nothing more than long range rafting, water activities, safari, and trekking. Hence the post I wrote on the Dandeli itinerary for 2 days.
Best 7 Things to Do in Dandeli
Having written quite some articles on Dandeli, the top things to do in Dandeli are already on my travel guide. But getting to Dandeli's roots, this article is about things you shouldn't miss on. Things that are authentic to Dandeli.
We visited Dandeli from Bangalore on a package trip which offered their own itinerary. However, we changed our itinerary on spot as per convenience. We stuck to the cores in Dandeli – trekking and river rafting.
Though some look forward to watersports like kayaking, zorbing, and zip-lining here, these are available in and around Bangalore. For Dandeli, here are things to do you shouldn't miss on:
White Water Rafting
Trekking in Kavala Caves
Check out the Supa Dam (and backwaters)
Visit the Syntheri Rocks
Jungle Camp and Campfires
Wildlife Sanctuary Safari and Bird Watching
Kulgi Nagzari Valley Trek (extreme)
White Water Rafting
Visiting on a budget package trip that was inclusive of transport from Bangalore, we'd had a long night with uncomfortable seating (for sleeping) for 8 hours. We had one hour to freshen up and begin deciding what to do next.
And we couldn't resist picking the long-range 12 km white water rafting. According to Dandeli.org, it costs Rs. 1350 per person (plus taxes) for the long-range rafting. However, most 3rd party agencies here charge anywhere between Rs. 1700 to even Rs. 2500 for the same.
We paid Rs. 1800 per head, and we didn't mind it considering someone guiding us throughout and inclusive of transport to the start point.
Now about rafting in Dandeli itself: It's a perfect start for beginners as the river water is more controlled here with the dam releasing its waters only when necessary.
I sat in the front row, needing the most strength for paddle and definitely the most adventurous spot. We began in the afternoon heat. Paddling through twigs and rocks, ducking on drops, and drinking water straight from the river – it was the best part of the trip.
12 long kilometres seemed to pass by through slips between our fingers!
Things to do in Dandeli: White water rafting prices
Short rafting (20 – 30 mins approx.): Rs. 500 plus taxes.
Mid rafting (1 hr approx.): Rs. 1200 plus taxes.
Long rafting (2 hrs. approx): Rs. 1350 plus taxes.
*Again, these prices are basic. Third party bookings typically cost higher.
Trekking in Kavala Caves
Though I'd heard of trekking here, I didn't assume it to be so fun. The trek is only 2 hours at a beginner's level. But the forest canopies and narrow caves throughout made it quite interesting.
The caves were our first stop on day two. The serenity of Dandeli is soothing and frightening at the same time. For first-timers, get a local guide along as the trail can get confusing. In fact, few members of our team got lost for another hour – ultimately adding up to the adventure.
What makes the trek here more thrilling is Dandeli's wildlife. If you hear loud firecrackers, it's in alert sign of elephants being close in the area.
Our lost teammates even witnessed a wild boar on their uncharted route! Luckily, everyone returned safely after a dozen of out-of-range calls and panicking.
Supa Dam (and its backwaters)
Things to do in Dandeli: This wasn't part of our itinerary and neither did we go up the dam's viewpoint. As for the backwaters, we saw it en route to the rafting start point. However, we had an amazing view of the dam from a bridge as we waited for the rafts to arrive.
Drenched in sweat and rising heat, we sat well while admiring the raw view. The river below, the lushness on either side zigzagging through, and the dam in the backdrop. The bridge trembled every time a vehicle passed over it.
Dandeli Backwaters, like any other backwaters, is the calmer part of the waters with a long curved stretch of road with the forests on one side and the river on the other. No vehicles pass through here, thus making it a wonderful spot for an evening walk with a panoramic view.
Though we passed by it, we didn't visit the backwaters this time.
Syntheri Rocks
Syntheri Rocks is one of those places that's too popular for a tourist spot, not much to experience, yet you still can't miss it.
This was our first stop in Dandeli. The flowing waters were at the bottom of the stone pavements with rock walls stretching up to the sky on the other side. Beehives hanging by the rocks added to the scenery.
Visiting in the morning, the place remained cool behind the walls. Apart from the spot's popularity, the small rapids and the rock formation are all it offers. Though we dipped our feet in the waters, staying away is recommended.
Not to mention, a blunt signboard of the death toll here standing on our way back up to the parking.
Jungle Camp and Campfires
Budget homestays, tents, or resorts – a picture of campfire (and fireflies) always pop up in my head. Afterall, that's most of the place after the countable activities, things to do in Dandeli.
Though Dandeli isn't known to be a cool region, the nights get chilly with the lush greens. Campfires here make for the calmness. If you're lucky, with a clear sky of stars too.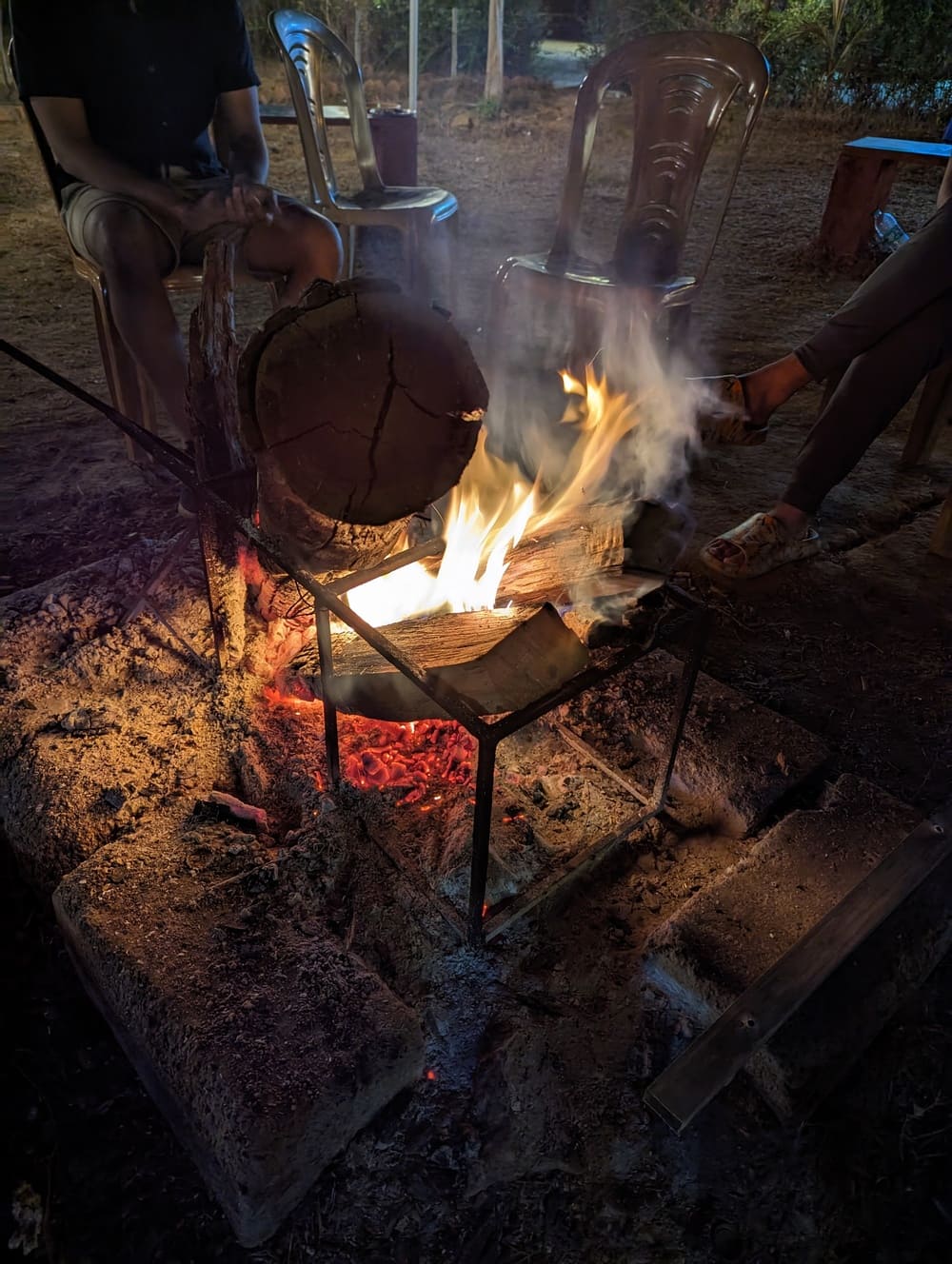 The only downside to campfires here is that Dandeli isn't popular among travelers. It's hard to find people from a backpacker community. Thus, people don't mingle along. It's best to experience a campfire when with your own bunch.
Wildlife Safari and Bird Watching
I've never been on safari or walked through a bird trail. Nonetheless, Dandeli's Anshi National Park (or Kali Tiger Reserve) is well-known among bird enthusiasts. It's best known for the variety of hornbills like the Malabar pied hornbill and Indian grey hornbill.
Also, as the name – Kali Tiger Reserve, suggests there are quite another range of fauna to explore. Black panthers, elephants, tigers, and various reptiles do have their habitats yet rarely come into view.
Fair number of people don't find the safari worth it as most barely witness any species. But if you've made it and have time, you might as well toss a coin and see how luck turns out.
Kulgi Nagzari Valley Trek
The two extreme activities in Dandeli should be river rafting and then trekking. Unlike Kavala Caves where the pathway is prefixed with a ticket counter for the area, these remote treks are guided groups from intermediate difficulty.
There are a handful of routes to choose from in Dandeli and my favorite was the Kulgi Nagzari Valley Trek. I've yet to check out the 15 km (8 hours) trek. Here's a blog by a trekking enthusiast on the same.
For amateur trekkers, I recommend going along with trusted guide partners. Most offbeat forest routes require official permission to trek. Local guides are usually in touch with the forest department – thus getting the paperworks done without hustle.
Planning an Itinerary
Most visitors to Dandeli only look for a weekend getaway and aren't from faraway places. Neither are things to do in Dandeli too big for a long trip. At most, 3 days is far enough to plan out all the adventures I mentioned above.
Visiting Dandeli twice and both times staying for 2 days, I've never felt the stay duration to be short. I do have to say I skipped on some activities on both occasions.
Speaking of which, here are some tips if you're looking to fit in most with just a couple of days.
White water rafting: Rafting isn't always open. Enquire your booked stay or a local about its availability as it depends on the dam water release and current strength. For the long range rafting (12 km) which takes 2 hours ~, keep at least 3 – 4 hours in mind, as it typically takes time to arrange the river raft boats.
Kavala caves can take a couple of hours or even half a day if you get lost. I know from personal experience. Half our team got lost in the forest for a good hour with no source of communication. The caves are quite nice to explore so I'd recommend taking time here.
Syntheri rocks, on the other hand, takes barely an hour.
Jungle safari and trekking. Safari is assumed to be 3-4 hours but it depends on the agency you book with. As for trekking, it can range from an hour to even a whole day (like the 8-hour Kulgi Nagzara Valley).
Renting a vehicle
Most importantly, the best way to get around Dandeli is via a private vehicle – preferably a 4-wheeler. Self-driven should also be good if you've a good driver along – the roads get pretty curvy and blindsighted at times.
Local chaffeured rental vehicles is the safest in my opinion, except it's always expensive. Going along with a package trip with transport inclusive throughout the trip from Bangalore, it wasn't much of a hustle for us. Yeah, we had a tempo of sorts the whole time.
Also, plan the itinerary according to distances. For instance, Syntheri Rocks and Kavala Caves are a good 40kms apart by road. Getting around Dandeli takes time. Nor are the visiting places close to one another.
The only exception is you get to visit the Supa Dam backwaters while you head for rafting as its enroute the same path.
Things to do in Dandeli: Tailpiece
Dandeli isn't popular enough to get people to visit from other states. But for people living in a fair distance (namely Bangalore), it's a sweet getaway. Rafting is the main selling aspect apart from the forests. For budget travelers with homestays, it takes no more than 7 to 10k per person for 2 days.
From a broad perspective, the town isn't very commercial. Most resorts and homestays offer package inclusive of meals as there aren't a great deal of restaurants here. Don't rely on local shops for basic commodities like soap. They can be hard to find.
Not to mention, everything shuts early around dusk like most tier 3 cities and accommodation don't generally encourage touring at night. Thus most evenings are bound to be spent around a campfire.
Lucky for us, we had a pool as large as an oversized tub where we couldn't resist a game of broken water volleyball.
Anyway, that puts in all the things to do in Dandeli without beating around too much (probably).