So, I went to New Zealand last year. This is what I felt on the first day of my holiday
New Zealand. Aotearoa, the land of the long white cloud. And finally, I had my chance to visit it. My brother, who lives there in Auckland, would be the facilitator of said visit (he was instrumental in our visas getting approved).
This would also be my first time setting foot out of my country, and that too right before I turned 18. And due to circumstances, my flight was 15 days earlier than my parents' flight. So, I was alone, a minor, on an international flight. (For those of y'all wondering why this is at least a bit surprising, my family had been a bit overprotective. Relatives were actually surprised when they heard I went alone on an international trip, the first time, as a minor.)
Landing at Auckland International Airport
The experience begins at Auckland International Airport (if you'd like to read about the flight experience, I did not write it because I have only 1 or 2 pictures, it would be mostly words). And, my god, I can already feel the difference.
(The image has a bit of tint to it; that is from the glass.)
The weather was so cool. The sky already looked fantastic, and I had been in New Zealand for a few minutes. Oh my, this was going to be good.
Passage through Customs was fast, painless, and went without a hitch. The Customs Officer asked me if I had peanuts, Moong Dal, or pickles (savory Indian snacks), and he clean bowled me with this question. I was not carrying any foodstuff or even a water bottle.
After connecting to the airport Wi-Fi, I called my brother and he was on his way to pick me up. (He'd rather have me hail a taxi, but I am unfamiliar with doing that abroad and have no cash). I went and waited near a big statue of a Lord Of The Rings character (a Dwarf, but I forgot the name). This is very fitting – almost all of the Lord Of The Rings movies were shot in New Zealand and worked on by a special effects company called Weta Digital (which, is also in New Zealand).
About the skies…
So, my brother came and picked me up. He came in his 7- seater Mazda CX9. On the way home, I could not help but look at the sky a lot.
I mean, look at that! You know how the mirror in the bathroom gets steamy every time you take a hot shower, right? That is how it felt for me to see the sky in my country. Now, imagine the mirror cleaned up with some cleaning agents and a microfiber cloth. It suddenly becomes so clear. That is how the sky in New Zealand felt.
The first day nothing much happened. I came home, took rest and slept for the night. It's impressive I didn't just fall asleep (jet lag).
Next morning, my brother (I'll call him Bro from now on) took me to his office. He worked at Mazda New Zealand at that time. So, I sit in his car, the car leaves the driveway and I am greeted by this:
OH MY GOD
As we went along, I spotted a sportscar: the Nissan 350z. This would not be the last sportscar I spot (obviously, I was going to be in NZ for a month):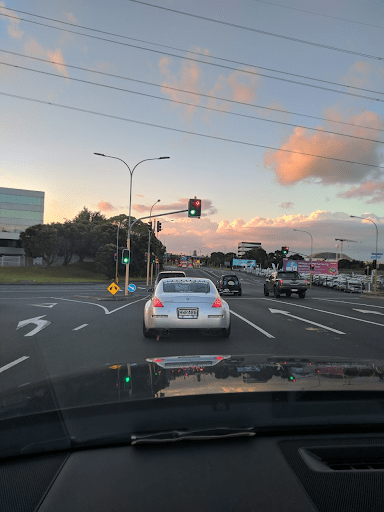 And then there is the absolute delight that is the service station. (Those who didn't understand, a service station is a gas station/ petrol station). We stopped at one in the evening. While Bro filled up the car, his wife and a friend of his took me to the service station's shop. There were 3 flavors of Coca-Cola in that service station, holy moly! My entire country only has one!!
I bought the Vanilla flavor one and it has to be one of the best beverages I have ever had in my life.
So, later in the evening, the sunset. And what a sight that was.
Shortly after, it rained as well, which was amazing, too. It made the weather really cold, which I love.
The next day, Bro took me with friends of his to a place called Hunua Waterfalls. An article about that will come shortly.
The thing that struck me as odd was that you never see people cleaning the streets too often – yet the roads are clean and clear, with the occasional leaf, unlike in my country where the road has many layers of dust. How do they keep the streets so clean? The pavements are equally spotless, as well.
Other travel blogs you might like: